Pakistani Clothes Need More Options For Curvy Girls Like Me
"Sizes rarely incorporate measurements that account for curvy figures like mine."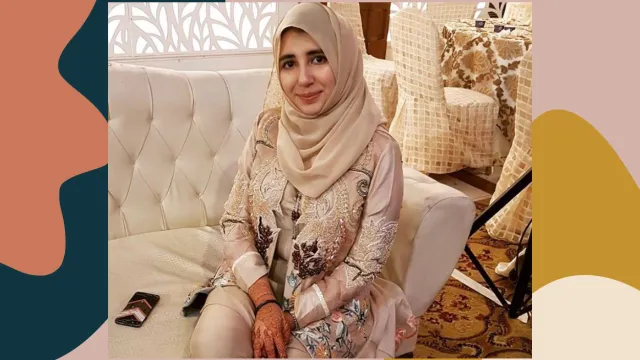 I always walk into clothing studios with dread. I steel myself in discomfort as boutique owners take my measurements—and with good reason. You see, being told that the clothes I like don't look good on me doesn't feel great. So when the boutique owners tell their assistants that my body shape is weird (while pointing out the fat on my upper back but lack of it on my shoulders), all I can do is be thankful that I'm wearing a face mask to hide my facial expressions.
I don't look like the typical dream Pakistani girl. I grew up being taught that there was a specific beauty standard, one that only values women who are thin and petite, fair and flawless, celebrating women who can hide under their clothes and whose breasts, butt, and stomach aren't obvious. I developed curves far earlier than my friends, and as we grew up I saw my friends wear whatever they wanted while I was far more restricted in my clothing options. I could only wear clothes that "suited" my body type—nothing form-flattering, fitted, or too adventurous. 
From as early as the age of eleven, I was exposed to a constant slew of conversations based on looking thin as a measure of looking good. A "patli qamar" (petite waist) was seemingly the biggest asset a girl could have, but I was heavy. I learned to hide myself, and as I tried to cover up my obvious curves, I slowly began to make myself as inconspicuous as possible. 
I struggled with my mother to find clothing options we both thought were flattering. She wanted to dress me certain ways that didn't sit right, creating a clash. Buying Pakistani clothing is a struggle since I can rarely buy off the rack. Sizes rarely incorporate measurements that account for curvy figures like mine, and what fits on my waist is often too tight elsewhere. It's a constant struggle.
Self-image has always been a personal battle, but I've found ways to deal with it in and outside of the clothing stores where I buy both my Pakistani and Western clothing. I started by investing in a few wardrobe staples that I love and feel good in, and while I'm far more comfortable in Western clothes than I am in Pakistani ones—despite this making me feel disconnected from my home and culture—I love that I've been able to explore my sense of style without being limited by sizes. Feeling comfortable in my body is the first step, so that's what I prioritize.
In the last decade, my sense of self has developed outside of the perceptions other people have of me. Of course, that's not to say that hurtful comments don't upset me anymore, because they do. But now they mean something different to me than they did before. I still have constant discussions with my mother about which clothes make me look "thin" and flattering to the social eye, but I've learned to steer the conversation into a healthier outlet.