Padma Lakshmi explained why she didn't report her rape at 16 in a heartbreaking "NYT" op-ed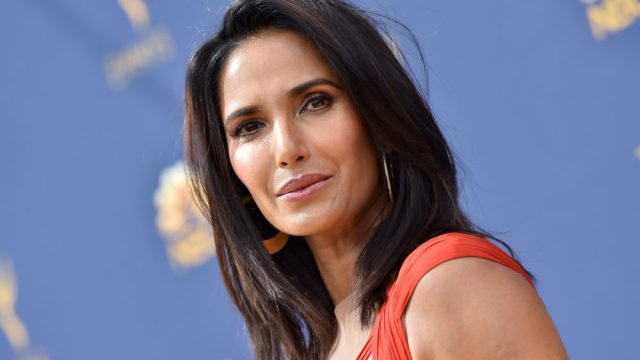 On September 21st, President Donald Trump issued a statement in which he implied that if the sexual assault allegations against Brett Kavanaugh were true, Christine Blasey Ford surely would have reported the incident to authorities. The president's ignorant comment prompted survivors of sexual assault to tweet their unreported experiences with the hashtag #WhyIDidntReport. And now, Top Chef host Padma Lakshmi has penned an op-ed further explaining the reason so many victims stay silent.
The op-ed was published in The New York Times today, September 25th. In her piece, Lakshmi—who's also an ACLU ambassador for immigration and women's rights—wrote about being raped by her then-boyfriend when she was 16 years old. She wrote that she was a virgin at the time and unsure whether or not she was ready to have sex. Her boyfriend, who was 23, raped her while she was asleep in his apartment on New Year's Eve. Lakshmi wrote that she didn't tell anyone what happened, partially because she worried that it was her fault.
"We had no language in the 1980s for date rape," she wrote. "I imagined that adults would say: 'What the hell were you doing in his apartment? Why were you dating someone so much older?'"
Lakshmi also noted that reactions to a previous assault affected her willingness to tell others. She wrote that when she was seven years old, a male relative touched her inappropriately and made her touch his erect penis. When she told her parents, they sent her to live in India for a year. She wrote that she learned bad things happen when you come forward, and also that her ability to trust was impacted for years to come.
"Some say a man shouldn't pay a price for an act he committed as a teenager," she wrote. "But the woman pays the price for the rest of her life, and so do the people who love her."
Lakshmi, who previously spoke up about her experience with the #WhyIDidntReport hashtag, wrote that she regretted not reporting her rape as a teenager. But she also said that her experience made her feel strongly about giving survivors the opportunity to come forward.
"I have nothing to gain by talking about this," she acknowledged. "But we all have a lot to lose if we put a time limit on telling the truth about sexual assault and if we hold on to the codes of silence that for generations have allowed men to hurt women with impunity."
Lakshmi is just one of many, many survivors who haven't reported their sexual assaults. When someone says they have been assaulted, we need to listen.
If you or someone you know has been sexually assaulted, contact the National Sexual Assault Hotline at 1-800-656-4673.