The first trailer for "Pacific Rim: Uprising" is here, and John Boyega is ready to take on the Kaiju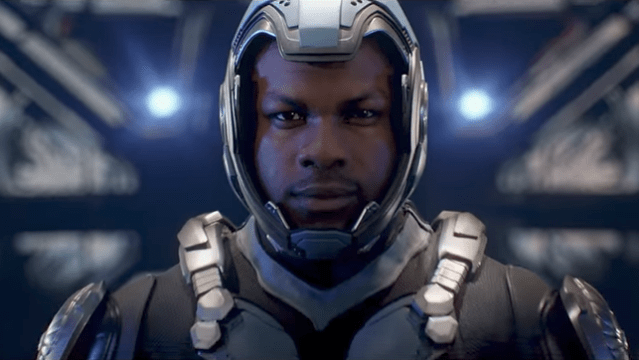 Prepare to join the uprising because the official first teaser trailer for Pacific Rim: Uprising is here.
The trailer  — which takes the form of a Jaeger recruitment video — gives us our first look at John Boyega's character, Jake Pentecost, the son of Marshal Stacker Pentecost (Idris Elba), who is believed to have died working to seal the Breach in Pacific Rim.
The Stephen S. DeKnight-directed sequel takes place ten years after the first film, as Pan Pacific Defense Corps (PPDC) works to recruit the "best" minds to train pilot Jaegers to defend the world in the wake of an inevitable Kaiju return.
https://www.youtube.com/watch?v=Am-gG-VyXPg?feature=oembed
In addition to Boyega, Scott Eastwood, Cailee Spaeny, and Jing Tian join the cast as new recruits, while Charlie Day, Burn Gorman, and Rinko Kikuchi all reprise their roles from the 2013 film. Unfortunately, Charlie Hunnam was unable to return as the heroic Raleigh Becket.
In addition to releasing the trailer, Universal and Legendary also launched a fully interactive Jaeger recruitment website, which highlights improved Jaeger technology as well as the history of the Kaiju invasion in 2013. The timeline recalls the development of the Jaeger program in 2014 and the ongoing wars through the victory at the Breach in 2025. It also gives an overview of the "current" Jaeger program, aka Uprising's plot synopsis.
"It's been ten years since The Battle of the Breach, and the oceans are still, but restless. Vindicated by the victory at the Breach, the Jaeger program has evolved into the most powerful global defense force in human history. The PPDC now calls upon the best and brightest to rise up and become the next generation of heroes. When the Kaiju threat returns, we will be ready."
Umm, sign us up!
We seriously can't wait to see the new pilots kick Kaiju ass in Pacific Rim: Uprising when it hits theaters in February 2018.