Want to own a home? Here's what you need to make based on where you live.
Tired of paying rent and curious how much your annual salary has to be to afford to just buy a house instead? Well, according to new stats from HSH.com, you may not have to shell out rent any longer—depending on where you live. Yep, it may be more economical to buy a house. NBD, right? I know, I know, that seems so… adult. But if you did want to buy a house, how much very adult money would you really need to make? Well, it depends on where you live.
Nationwide, the median cost of a home $222,700, meaning you'd need to earn about $51,115 per year (before taxes) to be able to afford one. But, of course, the price of homes varies greatly in different parts of the country and so does the amount you need to make to own one. In Los Angeles, for example, where the median cost of a home is $481,900, you need to make a whopping $95,040.20 a year to afford to buy. In Chicago, the median cost is $209,800, so Chicagoans only need to earn $57, 982.85 a year to afford a home. Meanwhile, the median cost of a home in New York is $384,600 and the magic salary number to afford owning is $86,770.19 a year.
How did HSH.com figure this out? They used the average jumbo mortgage rate and took into account the entire cost—the principal, interest, insurance payments, and taxes on a median-priced home from the National Association of Realtors.
They then:
used a 30-year fixed-rate mortgage in the fourth quarter of 2015 as the average interest rate
assumed the buyer would make a 20 percent down payment (if 10 percent, the salary amounts would go up from $4,200 to $31,000)
assumed the buyer would not spend more than 28 percent of their gross income toward housing
They also found that mortgage rates were lower in every city below during the fourth quarter. Plus, quarterly home prices got lower in every metro area but five—however, prices went up in every area but three year-over-year.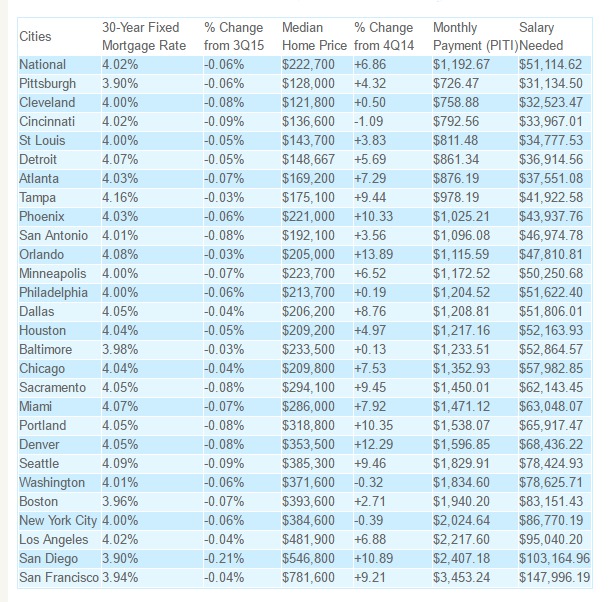 HSH.com also discovered that home prices and lower mortgage rates were more affordable in all but two of the above cities. That's the great news. But the bad? The National Association of Realtors can't promise the same for 2016—more demand will equal higher prices. "Without a significant ramp-up in new home construction and more homeowners listing their homes for sale, buyers are likely to see little relief in the form of slowing price growth in the months ahead," said Lawrence Yun, NAR chief economist.
So, all in all, keep saving for that down payment because, just like the economy, prices of homes and mortgage rates can continue to fluctuate. You can check out more of HSH's findings per city here.