The oVertone color conditioner turned me into the redhead I'd always wanted to be
I've been quick to join the bandwagon of all those making dramatic hair transformations in quarantine. I haven't shaved my head or tried to cut my bangs yet, but I have changed my hair color twice. First, I went for a temporary, Lady Bird-inspired pink color with Moroccanoil's Color Depositing Mask. Then, after the hibiscus hue had faded out of my hair, I decided to channel the look of another iconic female lead: Julia Roberts' Vivian Ward in Pretty Woman.
So, I tested out the oVertone "Ginger" products. Overtone is known for its rainbow of vibrant hair coloring products, from bright blue to neon yellow, as well as its line specifically designed for depositing color on brown hair. The brand offers many color options, and I chose the Ginger Coloring Conditioner, a semi-permanent color which works for hair that's light brown or lighter. From the helpful before-and-after photos on the site, the Orange for Brown Hair Coloring Conditioner resulted in a deeper red tone, while the ginger product seemed to have the softer, more natural orange tones I was looking for.
Unlike the Moroccanoil Color Depositing Mask, which is applied to damp hair, the instructions on the oVertone Color Conditioner recommend applying to clean, dry hair. This made the application a bit trickier since the color didn't spread as easily, but I used a comb to distribute the product throughout my strands, and it worked just fine. Something that made application easier, though, is that the conditioner came in a jar that can be kept open, rather than a bottle that creates more of a mess when you go back for more product. The process is a whole lot easier when you can simply scoop the color out like Winnie the Pooh going in for some honey.
After applying the color all over my hair, I kept it on for 15 minutes (10 to 15 is recommended). While I waited and paced around the house, I left a strong trail of peppermint scent—which is a welcome alternative to the harsh chemical smell of many other hair dyes. Overtone's refreshing scent is the result of the spearmint leaf oil and other natural, hair-healthy ingredients in its formula, like aloe juice, coconut oil, shea butter, avocado oil, and more. The formula is also completely vegan, cruelty-free, and free of ammonia, parabens, and sulfates—so great!
Overtone Ginger Coloring Conditioner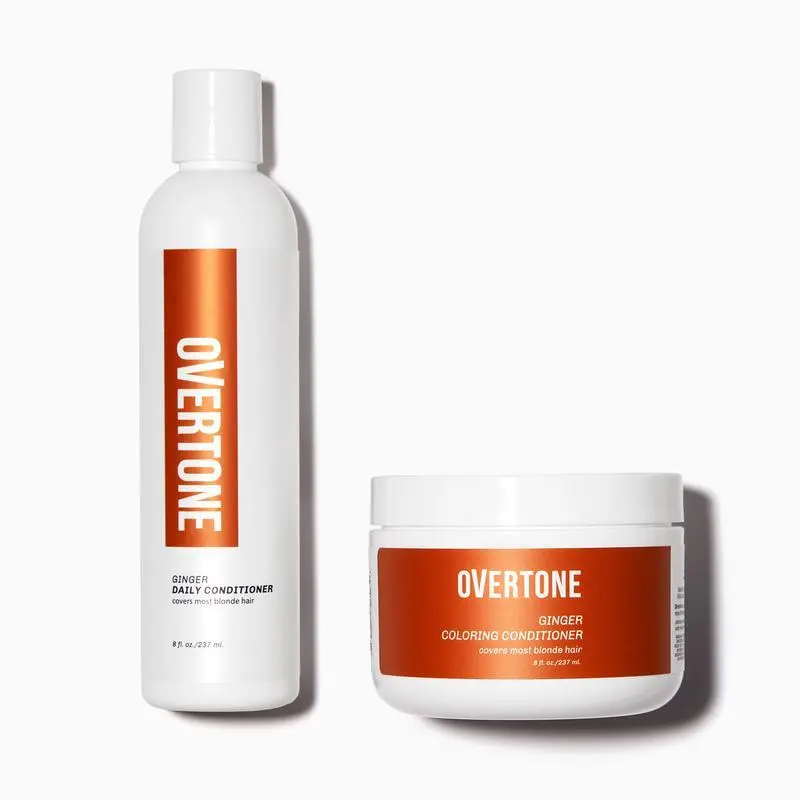 I did the whole process by myself, so my color looked a little uneven at the end. However, Overtone offers a quick-fix solution, too. The day after I colored my hair, I used the oVertone Ginger Daily Conditioner while showering, and this helped even out the tone. In the end, my hair looked perfectly ginger, and it felt really moisturized.
I love having both the daily conditioner and coloring conditioner (I have more than half left) on hand. If I need a quick refresh, I use the daily conditioner, and if I need a complete color surge to regain more Vivian Ward-inspired confidence, I have the coloring conditioner. I'm so happy with my new ginger hair and plan to keep it like this for as long as I can, but who knows. If quarantine continues much longer I may start making my way through the rest of the Overtone color wheel.