I overhauled my entire skincare routine for small, natural brands, and I'm having my best skin ever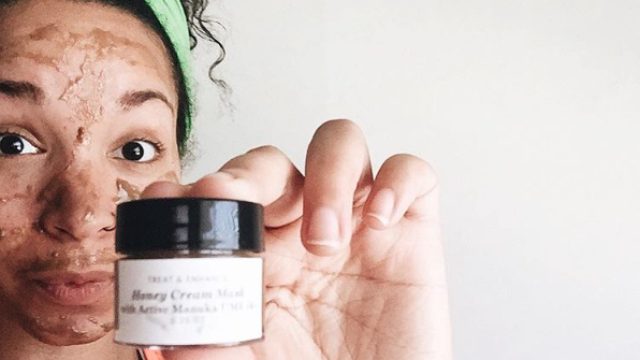 During the last year, I've stopped using non-natural brands completely. It may sound drastic, but lemme tell you a little story. For my entire life, I've had *terrible* skin, and have struggled with the kind of acne that leaves you staring into your makeup mirror and crying and wishing you could just start from scratch. I'm talking big, aggressive pimples that seem to pile up on each other and never die.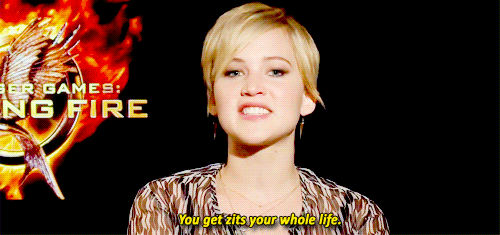 But everything changed when I tried out this tea tree soap I found at a market. It was cheap, so I figured I may as well, right? Well, that was the beginning of me overhauling my entire skincare routine. And, well, it's worked.
So, this is a definitely photoshopped photo of my face pre-overhaul.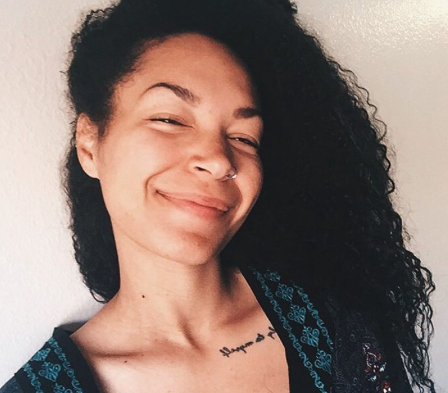 What you can't see here is the whole lotta dark spots I blurred out, super huge pores all around my nose, and patches that somehow manage to be dry AF and also pools of oil at the same time. Like, yum. But this wasn't the worst of it. A year ago I saw the most upsetting picture of my skin ever taken on Facebook. I rushed to untag myself, and the pic got lost in the loads and loads of pics that get uploaded on the reg. It was at that moment that I was like, screw it. I may as well try something new.
Here's what I swapped, and the products that became my new HGs:
1. Face wash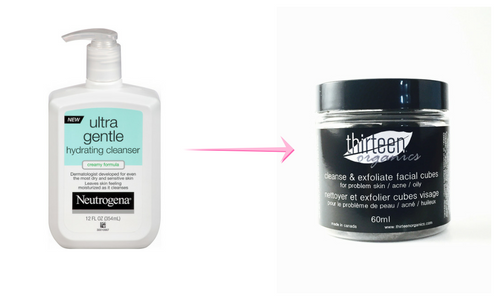 Neutrogena Ultra Gentle Hydrating Cleanser for Thirteen Organics Cleanse & Exfoliate Facial Cubes ($13).
2. Toner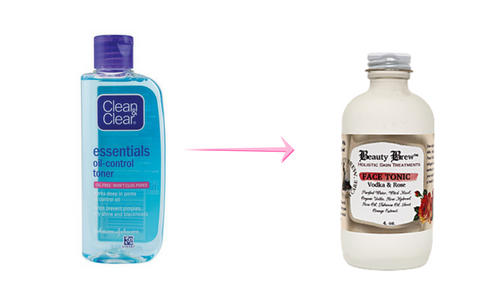 Clean and Clear Oil Control Toner for Beauty Brew Vodka & Rose Face Tonic ($25).
3. Moisturizer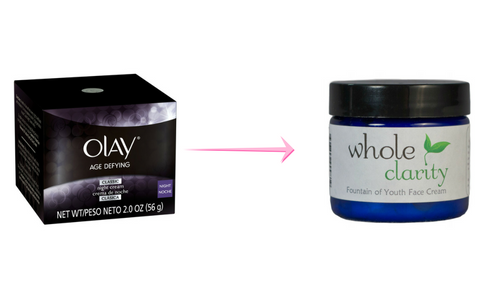 Olay Age Defying Night Cream for Whole Clarity Fountain of Youth Face Cream ($35).
4. Zit cream
Neutrogena On-the-Spot Acne Treatment for Uncle Harry's Hemp Blemish Salve ($6).
5. Mask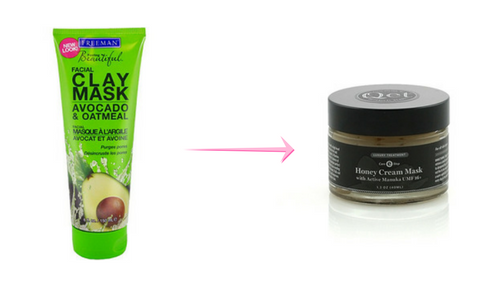 Freeman Clay Mask for Qet Botanicals Active Cream Honey Mask ($49).
Aaaand here's my face now: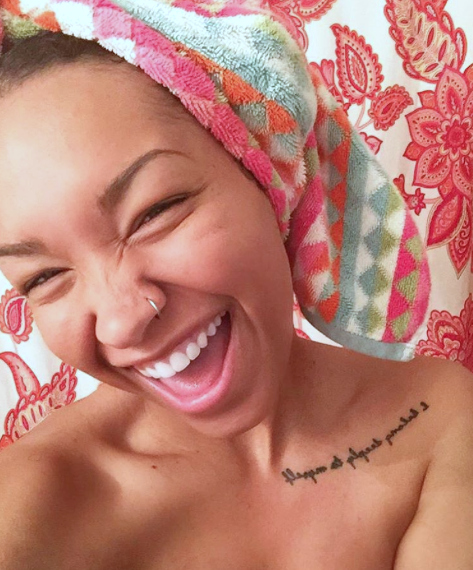 Makeup free, though of course I filled in my brows for this shot because I'm not *that* brave. Sure, my bathroom lighting kinda sucks so I'm hiding a little, but GUYS. I've never felt so unashamed to rock my bare face literally all the time. I don't go to great lengths trying to hide one side of my face or my chin with my sleeve anymore. I feel pretty okay about my skin, and that feels so revolutionary to me.
Too, I love that I'm supporting smaller brands. For the most part, these are people I've come to know, people who say my cat is cute and update me on my order, and, like, how cool is that?
At the end of the day, this won't work for everyone. Some people rely on medication and other treatments to ease their acne, and that's totally valid. But, for me, stepping away from the harsher chemicals really did a number for my skin, and I'll be grateful to these little skincare guys forever and ever.