10 outspoken women of color we should all be following on Twitter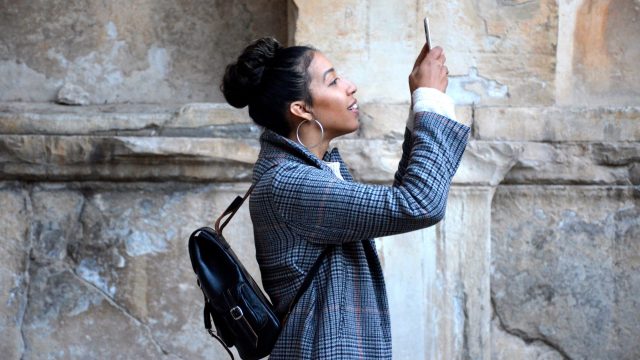 Twitter has always been popular in the age of social media, but its importance has recently escalated. It's more crucial than ever in the current political and social climate to give women of color the platform to speak up about the things that matter most in our world. After all, they know firsthand what it's like to be marginalized and sidelined on the regular, so we should probably all decide to listen to WOC more often, especially on Twitter.
In 2014 the #UnfollowAMan movement suggested that women of Twitter unfollow men to counteract the predominance of males's opinions in the media. A similar movement should take place this year called #FollowAWomanOfColor, because many of these Twitter accounts offer important insights about current events that you might be missing in a white person's profile.
Here are the 10 most bad-ass WOC on Twitter we should be following.
1Ivie Okechukwu Ani (@ivieani)
Ani is a writer whose work has been featured on The Village Voice, New York Times, Teen Vogue, and more. She's from the Bronx and graduated from NYU after studying Journalism and Africana Studies. If Twitter's not enough, find her looking fierce on Instagram here.
Amry is famous for using Twitter as a platform to comment on social justice issues and share her perspective as a Muslim Arab American. She's currently working as a freelance writer and she manages a rad Tumblr page called Racial Misprofiling which, as she says, depicts "When 'Arab' stock photos go terribly wrong."
Feminista Jones calls herself a "post-modern sex-positive, Black feminist woman" on her popular blog. She writes and speaks about intersectional feminism and sex-positivity, using her acquired wisdom to facilitate dialogue about often taboo subjects.
false
Zahira Kelly has a column in The New Inquiry called "Dear Marooned Alien Princess."  Sound too awesome to be real? Well, it's real. According to TNR, Zahira "specializes in the jolt of recognition that comes from rearranging or inverting mainstream hierarchies" and she's a visual artist. Her work is sold online here, and can also be found on her Patreon.
https://twitter.com/udfredirect/status/849118409484771328
Ijeoma Oluo is the Editor at Large for The Establishment, author of The Badass Feminist Coloring Book, and a Seattle based writer whose work has been featured on The Guardian, Jezebel, XO Jane, and more. You might want to invest in a fire extinguisher because her tweets are fabulously flammable.
6Porochista Khakpour (@PKhakpour)
Born in Tehran, Khakpour writes about being an Iranian refugee and Muslim-Americans with Middle Eastern heritage and her work has been featured in The New York Times, The Los Angeles Times, The Wall Street Journal, and more. She's also the author of two novels and has a can't-miss memoir coming out in 2018. As if that's not enough, she's a Writer in Residence at Bard College, so yes…she does it all!
false
Lauren Chanel Allen, aka Michelle Hux, is studying for her Ph.D in Social Psychology. Her favorite things to talk about include "political psychology, race, ethnicity, quantum mechanics, and rap," according to her website. She tweets about all these things and more, but if 140 characters isn't enough (it's not), check out her blog.
An advocate for Muslim women and writer who's contributed to Al Jazeera, Makki's a force to be reckoned with. She's a second-generation Sudanese American who has created a Tumblr about the designated women's areas of mosques to illuminate the unbalanced treatment of men and women within these places of worship. She also contributes to Patheos.com, with a column called "Hindtrospectives."
Not only is Cauley a writer for The Daily Show, but she has also written for The Atlantic, Buzzfeed, Esquire, The New Yorker, Pitchfork and Rolling Stone. Though she used to be a lawyer, Cauley followed her passion and became a writer. Evidently it worked out for the best because she was recently named one of Brooklyn's 100 Influencers by Brooklyn Magazine.
https://twitter.com/udfredirect/status/849783590611189760
You know a woman is a boss when she links to a Square Cash page on her Twitter bio. Yonis moved to Atlanta as a refugee from Somalia's Civil War. She has a BA in Journalism and will receive her MA in Social Ethics in 2018. After that she'll probably the the one to solve the world's problems, so we will definitely be seeing more of her in the near future.
Tweet on, bold babes. The work these (and so many more) women of color are doing is incredible, and everyone should be listening.