Our skincare regimen is about to get ten times cuter with this panda mask set
The truth is, we love a good skincare regimen. Who doesn't want perfect looking skin?! And we get super giddy when we find new products or skin care trends — like the Korean face mask skin treatments — that make our face look flawless. It's like Christmas morning-level excitement. That's why when we find a new product that will make our skin look and feel better, we can't help but jump up and down. And now, our beauty routine is about to become even cuter thanks to a new panda mask set we found.
We all know that taking care of our skin is important, but sometimes adding another thing to your daily routine is more of a hassle. It's always better to be proactive than reactive when it comes to taking care of our skin, and finding the right product will get you excited for your night routine. Before you know it, you'll be closing your eyes and going to sleep with a fresh face and brand new skin.
This panda mask set is exactly what you need to get you excited about taking care of your skin because it's just so cute.
Oh K! is a Korean inspired beauty and lifestyle brand, and they've got a new cleansing kit that's exclusive to ASOS! It's legit the most adorable thing we've ever seen.
The six-piece gift set is perfect for anyone who needs a pick-me-up. This collection is also perfect for anyone who finds pandas irresistible.
https://www.instagram.com/p/BMKOP7vACU6
The cleansing kit includes two sheet masks infused with green tea and apple, which will leave your skin feeling extra fresh! It also includes exfoliating face pads, cooling eye pads, and it all comes in an adorable box that you'll want to keep forever.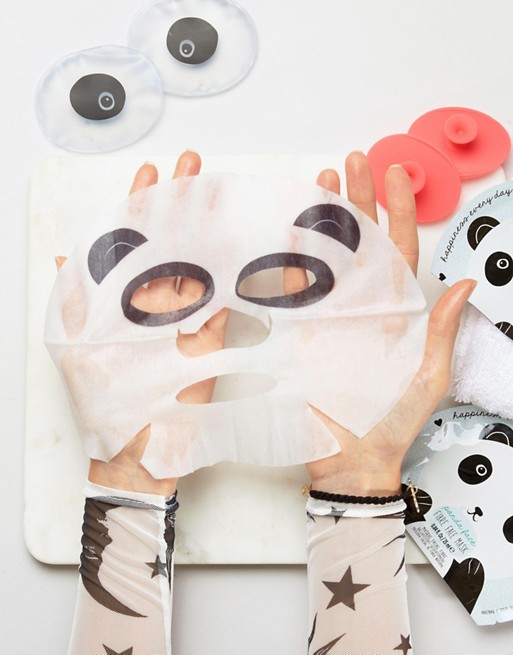 Before you fall asleep, you can pretend you're a panda while your mask makes your skin glow! There's no better reason than that to add this to your nightly skincare regimen.
You can pick up the set from ASOS.com for only $23.