Ottessa Moshfegh knows My Year of Rest and Relaxation isn't for everyone—but you should still read it anyway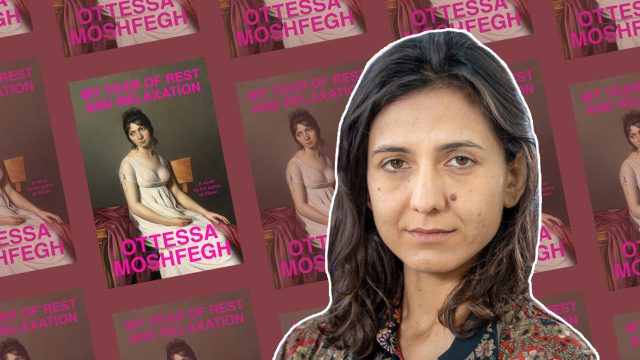 By now, you've surely heard the hype about My Year of Rest and Relaxation, Ottessa Moshfegh's novel that was shortlisted for the 2019 Wellcome Book Prize. But if you still haven't read it, do yourself a favor and dive in head first. Moshfegh will leave you feeling neither rested nor relaxed, but you'll appreciate her darkly hilarious observations on mental health, friendship, sexuality, and big pharma.
My Year of Rest and Relaxation follows an unnamed protagonist on a quest to sleep as much as possible for an entire year. She's miserable, anxious, and desperately wants to escape her body and her mind. More than anything, she's completely alone; she lost both of her parents, has a bad on-again, off-again relationship with a finance bro, and doesn't respect the one person she regularly talks to enough to consider her a friend.
So, she forms a plan to sleep enough to be "reborn," make her bad past a distant memory, and goes so far as to transform her apartment into a "sleeping prison" so she can fully escape the waking world. Though the novel is set in the year 2000, with such a sharp focus on mental health, it could easily take place today. Who among us hasn't fantasized about sleeping off this moment in history?
I Skyped with Moshfegh about how readers have responded to her novel, which parts she underestimated how much would resonate with people, and what she's reading now.
HelloGiggles: My Year of Rest and Relaxation has a very specific time and place: New York City in the year 2000, right before 9/11. Did you think of the story first, or the setting first? Did one inform the other?
Ottessa Moshfegh: I think I was interested in the character. The character definitely came first—this young woman's habitual, day-to-day behavior and her avoidance of her life and her world. She revealed to me that she was doing this experimental year of sleep. It wasn't until I wrote about her past—her most recent past, working in an art gallery in Chelsea—that it kind of dawned on me that I had set the book in the year 2000 and not a more contemporary America. That's when the book took shape outside of my own decision making. After that, it was its own thing.
HG: The sleep project is so extreme, it's almost as if she wants to erase part of her identity. Is sleeping for a year her way of processing her trauma and grief?
OM: Yeah. I don't know if she's thinking of it in those terms. She seems so shut down from her trauma and grief, and therefore, the sleep idea has a more abstract goal. There's something cleansing about forgetting. She has this theory that the more she sleeps, the more her cells will regenerate without attachment to memory. I don't think she quite knows exactly why she finds life so intolerable. But in the course of reading the book, I think we, the reader, understand it a little bit: knowing about her past, how she was raised, what she lacked as a child. And, conversely, what she lacks as an adult: having zero parents and zero intimate relationships.
HG: The experiment is extreme, but I feel like she does it with good intentions. Do you sympathize with her or understand why she wanted to do it?
OM: Yeah, totally. If she was a friend of mine, I would be extremely concerned, obviously. And I would probably judge her decision to do so as very selfish and cowardly. But when I put myself in her position, she really has zero responsibility to anybody else. She has nothing to lose. It's not like she's turning her back on her children. She's totally alone. There's nobody judging her except for Reva, her friend, and she doesn't really trust Reva's judgment.
HG: I wouldn't classify the book as fantasy, but there's a fantastical element to it. You have to be willing to believe that she could take all of these pills and survive all of these blackouts in order to be in on the joke.
OM: There is an element of satirical fantasy here. The book is not meant to be read as genre, like sci-fi or fantasy or anything like that. But because our narrator is unreliable, there's a suspension of expectation. Partially, that's accomplished through this fictional drug Infermiterol. It's a new thing, nobody else has taken it, and it's just been approved. It's fictional, and I think the reader understands that. the effects of the drug are sort of otherworldly. That's when the book gets a little bit surreal. The rules of reality have shifted a little bit.
HG: I watched a reading you did last summer at Politics and Prose and a woman brought up how your books have caused quite a stir in her book club, particularly Eileen, because they break social contracts and don't shy away from taboo topics. And your response was that's not the first time someone has said that to you, which was an unexpected response.
OM: What I think is unexpected is that people still have book clubs. [Laughs.] I mean, it's pretty cool. That's cool. From my perspective, Eileen was a little bit of…I kind of fooled people into thinking I was almost a normal person with Eileen. Here, I've written a book that's almost for the normal reader, because it fit nicely with that noir genre. But then it also upset a lot of people. I can understand that people would not feel like reading this in a book club, if the kind of book club you're in is a more conservative book club. You might feel misled or harassed a little bit, because there are some pretty violent concepts in my fiction.
HG: Are there any aspects of My Year of Rest and Relaxation you don't think people have focused on like you hoped they would, or any parts you thought people would find more provocative?
OM: By now, no. By now, I've forgotten what the book is. It's just a series of questions.
HG: I read it last summer and I revisited it yesterday for our chat. I'd forgotten that at the end, she goes to the Met and touches a painting to prove to herself that "things were just things."
OM: Oh yeah. Something that felt important to me as the writer, that I miscalibrated how much it would hit the reader, was the sincerity of it—the sincerity of her pain over losing her parents, and the sincerity of her desire to feel free. Yes, exactly—that scene in the museum where she touches the painting, it's her stepping outside of herself and making contact with what she has just described as being the result of an illusion. So by touching it, she's disillusioning herself.
HG: Not to read your book to you, but she actually uses that word, "free." After she touches the painting she says: "That was it. I was free."
OM: Yeah. Exactly.
HG: What types of books do you read to inspire your novels and stories? And are you reading anything interesting right now for your next project?
OM: I'm kind of on hold for reading at the moment, because I've been really distracted with work that's different from my fiction. But generally speaking, when I'm writing a novel, I almost solely read nonfiction for research. I find it too overwhelming to read other novels, usually, unless it's a novel that a friend wrote that I want to read. I try not to look to other novels for inspiration, because it bleeds too much into my own way of doing things. I read for inspiration from the real world of nonfiction.
My Year of Rest and Relaxation is available wherever books are sold.