Here's the very important reason Netflix might make history at the Oscars in 2018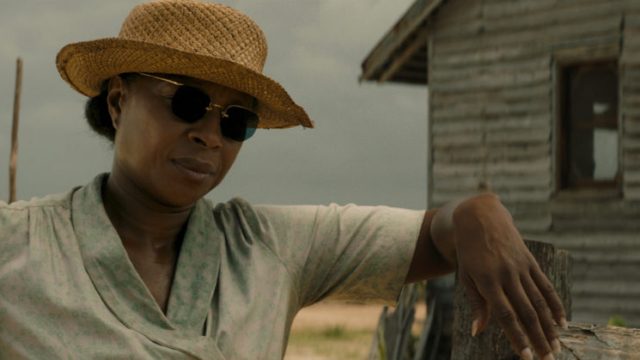 In an awards season that's already set itself apart, Tuesday (January 23rd) morning's Oscar nominations announcement proved the Academy may actually be moving in an exciting new direction — especially for streaming services like Netflix.
The streaming service picked up eight Oscar nods this year, including a few historic firsts: Mary J. Blige is the first person to ever be nominated for an acting award (Best Supporting Actress for Mudbound) and a songwriting award (Mudbound's "Mighty River") in the same year. Plus, Mudbound's Rachel Morrison also became the first woman ever to be nominated in the Best Cinematography category. That's right, the FIRST WOMAN EVER for Best Cinematography, and it's about time.
While the post-World War II drama didn't land Netflix the Best Picture nomination, the recognition the company did get could signal big things in the streaming future. For perspective, last year Amazon made major moves with its Best Picture nomination and Best Actor win for Manchester by the Sea, but as Amazon Studiostends to release its movies in theaters before they hit our streaming screens, it makes sense that the typically old-school Academy would treat Amazon's projects as more legitimate films than, say, Netflix films.
But not anymore.
Mudbound earned Netflix four nominations total, with a nod for Best Adapted Screenplay (the movie is based on Hillary Jordan's 2008 novel) in addition to Best Original Song, Best Supporting Actress, and Best Cinematography. Netflix's other four nominations were for documentary features Icarus and Strong Island, the short documentary Heroin(e), and foreign-language film On Body and Soul. Amazon, which earned seven nominations last year, only got one this time: Best Original Screenplay for The Big Sick.
Netflix's eight total nominations are all the more exciting because they mark the most ever for a streaming service. And looking ahead, if Blige ends up taking home the Best Supporting Actress trophy for Mudbound, it will mark the first acting Oscar win for a streaming actress (Michelle Williams was nominated for Manchester, but lost to Fences' Viola Davis last year).
Online, many fans were disappointed Mudbound director Dee Rees was left out of the Best Director category.
With Greta Gerwig's nomination for Lady Bird and Jordan Peele's for Get Out, the director race is already newsworthy; both are only the fifth examples of a woman and a black nominee in the category, respectively. Had Rees made the cut, she would have been the first African-American woman ever nominated for Best Director. (Kathryn Bigelow is still the only woman to have ever won the award.)
Even still, Netflix's success this time around is exciting for its celebration of diverse films and filmmakers, and for what it could mean for the moviemaking landscape going forward. The more kinds of stories told on-screen, and the more ways of telling them, the better. And we hope the Academy continues to recognize that.
The 2018 Oscars, hosted by Jimmy Kimmel, will air Sunday, March 4th on ABC.