The most powerful moments from the #MeToo and Time's Up segment at the Oscars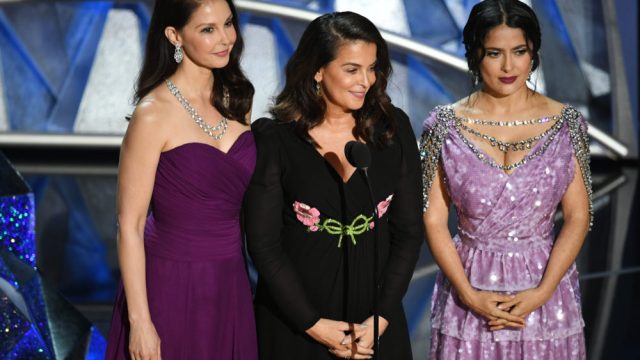 A rumor went around last week that 2018 Oscars host Jimmy Kimmel would be steering clear of the #MeToo and Time's Up movements during the March 4th telecast. Luckily, those rumors were way off. At the Oscars, Kimmel and a number of other stars embraced the important conversations about sexual harassment and gender inequality that the industry has been having for months, and even dedicated a powerful segment to them.
When Ashley Judd, Annabella Sciorra, and Salma Hayek took to the Oscars stage to introduce the pre-taped segment, it was a striking statement in itself. All three women have accused Harvey Weinstein of sexual harassment and abuse, so seeing them standing together after speaking their own truths started the segment on an emotional note.
"The changes we are witnessing are being driven by the powerful sound of new voices, of different voices, of our voices, joining together in a mighty chorus that is finally saying 'Time's up,'" Judd told the crowd.
Sciorra and Hayek both paused during different parts of their introduction, possibly to take it all in. "So," Hayek said, "we salute those unstoppable spirits who kicked ass and broke through the biased perceptions against their gender, their race, and their ethnicity to tell their stories."
The Oscars interviews and clips featured actors, actresses, and filmmakers whose work throughout the past year has shifted an entire industry — and, consequently, the larger culture.
For instance, Greta Gerwig, only the fifth woman in history to be nominated for Best Director, talked about thinking being a man was a prerequisite to make movies as a kid. Yance Ford, the first transgender director to be nominated for an Oscar, reflected on his experience being new for people. Mira Sorvino, another Harvey Weinstein accuser who walked the red carpet with Ashley Judd, pointed out that people are finally speaking out against something that happens in every industry and corner of life, not just in Hollywood.
The interviews encompassed not only the artists' thoughts on the issue of sexual harassment but on equality and representation in general, and the great power movies have to help all different kinds of people feel seen. Challenging the status quo is, in many ways, radical, Big Sick creator and star Kumail Nanjiani said, but seeing stories about people who have a different life experience than you is something women and marginalized people have always been doing.
"Some of my favorite movies are movies by straight white dudes about straight white dudes," Nanjiani said. "Now straight white dudes can watch movies starring me and you relate to that. It's not that hard. I've done it my whole life."
Moonlight director Barry Jenkins described being in the theater during a screening of Wonder Woman and hearing women cry when they related to the story on the screen in a way they never had before, and predicted the emotion would be similar when Black Panther came out (he was 100% right about that).
The shift to a movie landscape that looks like the world we actually live in will undoubtably be an adjustment for many people, especially those in a privileged position. They're not used to it, change is hard, blah blah blah. But as Sarah Silverman said in her interview, more representative movies aren't out to get anyone. They're being made, in part, to help us all connect:
"Some people are really, in their hearts, they're threatened, or they're scared," she said. "And there's nothing to be scared of, it's just equality."