Here's How Long the Oscars Are So You Can Plan Your Snacks Accordingly
Spoiler alert: It's a long night.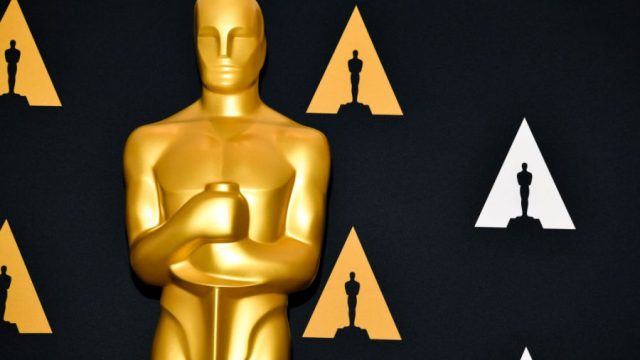 The Oscars are one of the biggest nights in show business, and there's nothing more fun than curling up on the couch with snacks to watch the show. Of course, the Oscars aren't known for being a super brief affair (like, at all), so how much time do you need to block out of your evening to fully experience all the fun Hollywood's biggest night has to offer?
Well, if you're just interested in watching the Oscars ceremony itself, the 2020 Academy Awards will air on ABC and the ABC app on February 9th at 8 p.m. ET. Since the Oscars are a live event, the exact awards show length can fluctuate a bit. However, you can usually expect the awards to run about three hours (or 15 minutes or so over three hours).
Of course, the awards show has definitely gone over that in the past.
Back in 2002, the Academy Awards ran a whopping four-plus hours. Understandably, there was a bit of an outcry against the ceremony's length, and the Academy makes a serious effort to keep the show a tight(ish) three hours. Just consider all the winners who are played off the stage.
If you're also aiming to partake in some of the Academy Awards fashion fun, you're looking for a much longer commitment.
The E! Live From the Red Carpet: The Oscars special will start airing at 2 p.m. ET. ABC, on the other hand, will air their Oscars Countdown starting at 1 p.m. ET and the In the Spotlight pre-show starting at 6:30 p.m. ET.
It will definitely look a little different this year, as we're still in the thick of the COVID-19 pandemic. The show is expected to be a small affair, but the Academy has encouraged stars to be there in person. However, after some controversy surrounding an announcement that Zoom wasn't allowed, the Academy loosened up, saying that if stars preferred to stay home for safety, it was okay, according to E! News.
So, by themselves, the awards are *technically* only three hours. But factor in the fashion extravaganza that is the Academy Awards red carpet, and the potential for the program to run long, and you'll likely be plopped on your couch for quite a while. Be sure to stock up on snacks!