If you thought you were excited for Orlando Bloom to reprise his role in "Pirates," just wait 'til you hear how excited he was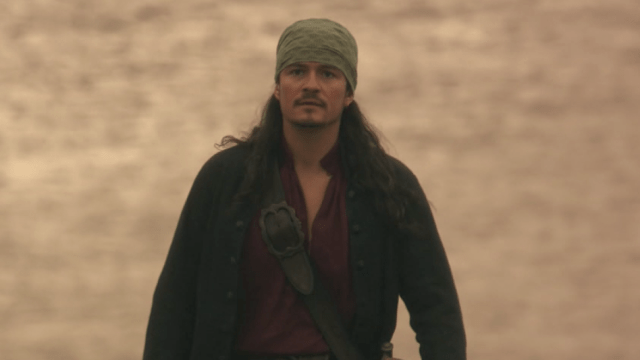 Where were you when you first learned that Orlando Bloom would once again return to the high seas in the Pirates of the Caribbean franchise? If you're wondering about the date, it was August 15, 2015, when this major announcement was made at Disney's' 2015 D23 Expo. Fast forward to summer 2017, and we've got Will Turner back!
Well, we've got cursed Will Turner, because Davy Jones' curses can be so fickle.
Now, if you thought you were pretty damn excited to see the pirate again (curse or no curse), you were probably only half as excited as Bloom. His Pirates of the Caribbean: Dead Men Tell No Tales co-star, Kaya Scodelario, said that on set, Bloom was the friendliest guy — and also clearly stoked to be back.
"Towards the end of the shoot...[Orlando] stopped in to the makeup trailer and he sat next to me," Scodelario explianed to HelloGiggles. "He asked me if I was enjoying making the movie. And, it was very long [filming day] I said, 'Yeah, it's been a lot of fun.' And, he described how much fun [he was having] and how much he loved making these movies."
Anyone else crying (sea salty) tears because that's so sweet to hear?
"It was really great to have him around and just to kind of practice and laugh a little bit, because he came in with so much excitement, so much energy. It was really awesome to see that. It was nice to hear him say that he's still just as excited as about being on set as he was the very first time."
There's no word (yet) on a sixth Pirates movie, but we're hopeful. And somewhere, Bloom probably is hopeful, too. If you're ready to relive the adventure again, Pirates of the Caribbean: Dead Men Tell No Tales is now out on Blu-ray, DVD, and HD Digital download.