10 organizations that help LGBTQ youth that are seriously important and need donations now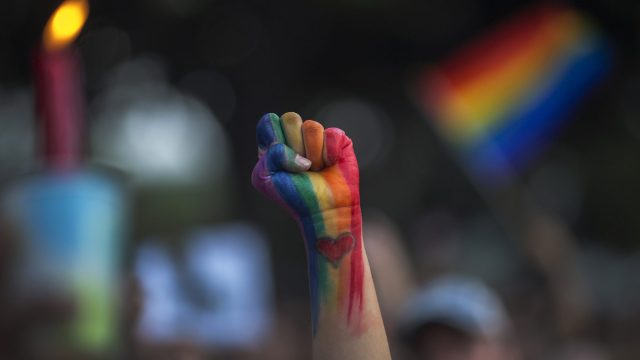 Today, we're focusing on action. We've peeled ourselves off the ground, dusted off and are showing up for our country, our neighbors, our friends, and ourselves. We've put together some lists of how you can get involved by volunteering or donating to social justice organizations, organizations that help women, or other things you can do today to help create the culture in which you want to live.
Because, that's the thing about democracy: WE BUILD IT. And it only works the way it should if everyone participates. So join us, won't you? Let's make November 10th and everyday hereafter National Do Better Day.
We need not only do good for ourselves, but for ALL PEOPLE. That especially includes people who are different than you and who have fewer opportunities than you.
So in that spirit, we've put together a list of organizations that support LGBTQ youth.
1. GLAD (Gay and Lesbian Advocates and Defenders) works to end discrimination based on sexual orientation, HIV status, and gender identity and expression.
2. Gay and Lesbian Alliance Against Defamation (GLAAD) uses media platforms to increase LGBTQ awareness. They offer publications, resource kits, media training as well as resource lists with information based on the major LGBTQ qualifiers.
3. Human Rights Campaign (HRC) focuses on ending discrimination of LGBTQ individuals. HRC offers resources on various topics including: school resources for LGBT parents, resources on cyber bullying, and transgender issues in the K-12 system.
4. The It Gets Better Project fosters communication and shares messages of hope with LGBT youth.
5. Lambda Legal Defense and Education Fund strives to help LGBTQ students in school, increase HIV awareness and challenge police and criminal justice. They also provide information on individual rights, LGBTQ legal cases and offer a Legal Help Desk.
6. The Mazzoni Center offers healthcare services to LGBTQ population in Philadelphia, including trans clinical care services, walk-in HIV and STI testing, primary care, and addiction and recovery services.
7. The Southern Poverty Law Center fights hate groups and bigotry using education, litigation, and advocacy.
8. The Sylvia Rivera Law Project provides legal services specifically to low-income people and people of color who are transgender, intersex, or gender non-conforming.
9. The Trevor Project provides crisis intervention and suicide prevention services to lesbian, gay, bisexual, transgender and questioning (LGBTQ) young people
10. The True Colors Fund works to end homelessness among lesbian, gay, bisexual, and transgender youth