Oreo may be releasing two new summertastic flavors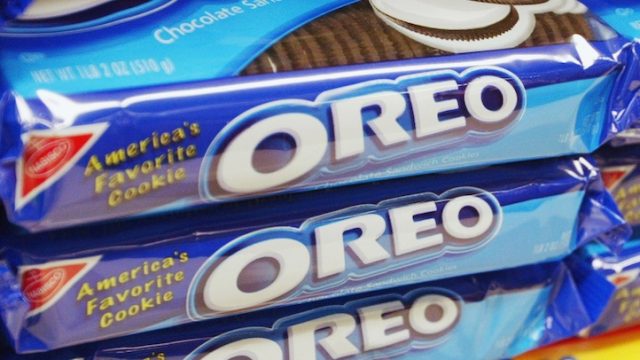 Hey cookie monsters…you're going to absolutely love this news. Rumors have been flying this week that Oreo is releasing salted caramel and coconut flavored thins, and our tummies are already grumbling.
Oreo is no stranger to releasing amazing twists on the classic sandwich cookie, from the Easter-themed Peeps-flavored Oreos to decadent chocolate-covered strawberry Oreos. But the new flavors seem like the perfect tropical summertime treat…and we cannot wait. The rumors first popped up on Instagram earlier this week, with one beloved junk food account sharing a photo of the new coconut and salted caramel Oreo Thins, sending foodies into a sheer cookie frenzy.
The account, The Junk Food Aisle, confirmed that the salted caramel flavor will have a golden cookie (yum!) and guessed that the coconut flavor will have the standard chocolate cookie.
And while this first seemed like a mere cookie rumor, TeenVogue.com reached out to Walmart, who confirmed the great news (score!). A spokesperson said, "I can confirm that Walmart will sell both the Coconut and Salted Caramel Oreo Thins. We can't wait for them to hit our store shelves!" Nor can we, Walmart!
No word yet on when and where the new flavors will be available, but we think this will make the perfect summertime treat, and we're hungry just thinking about it.
For now, we'll just continue enjoying the many flavors of Oreos we currently have in our pantry while we patiently await news on these coconut and salted caramel delights.