This orangutan had a baby shower and it was obviously the party of the year
Everyone deserves to be showered with gifts when they're expecting a child and orangutans are no different. At least that's the thought process over at Cameron Park Zoo in Waco, Texas where the trainers threw an organgutan a baby shower for an ape named Mei, the mother-to-be and her partner, KJ. It was a baby shower to remember.
Over 100 guests gathered for the orangutan baby shower on the morning of November 17th, where they could watch the couple open their gifts through the viewing window of their night house — a 6-room structure where the orangutans spend most of their time. The keepers decorated the yard and took a present to both the mother and father to open. "We had a table set up if people brought other gifts and served them cake," Duane McGregor, the zoo's marketing manager, told HelloGiggles in an interview. The zoo expects the baby to be born mid-January so preparations have been long underway, including a 100 percent real baby registry with Target with a whopping 418 items. McGregor said the gifts will definitely go to the parents-to-be, with extra items to be used for other animals — all contributing to their enrichment in some way.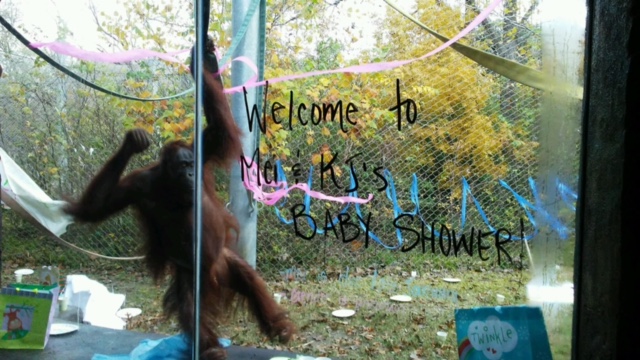 So far, people have purchased receiving blankets, a crib mobile, toys, books including Goodnight, Moon (!) and even a video baby monitor.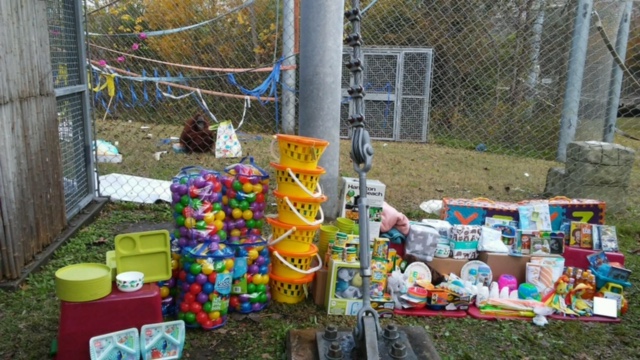 Why throw orangutans a baby shower? Well, Laura Klutts, one of the zoo's orangutan trainers, told HelloGiggles that the animals have a special relationship with guests.
"Our first goal with the public is to always make the personal connection," she said. But she says the zoo wanted the public to know about their conservation status as well. The animal's numbers are dwindling: There are only 220 original orangutans in captivity and only housed in 52 institutions across the United States and Mexico.
"[Zoos] only get an infant, 1 in 8 to 9 years," Klutts said. "The fact the stars have aligned  is a pretty big deal."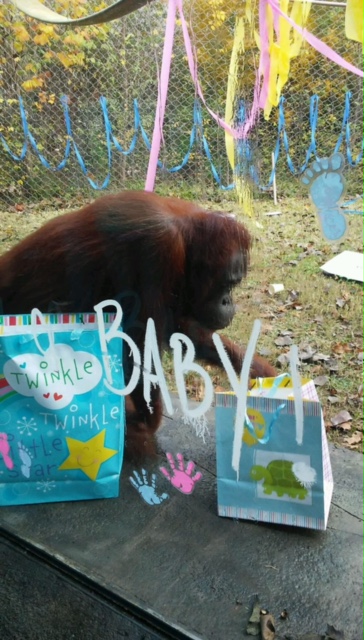 Making Mei's rare pregnancy into a huge event is how the zoo is helping to educate the public.
The zoo also threw Mei a shower in 2014 for her first pregnancy, but they lost the baby at 6 weeks. This makes the current celebrations even more special. Klutts said that Mei definitely knows she's expecting, because she has an ultrasound appointment each week. But it's unclear whether she or KJ know they're being celebrated, or why.
"I think they're all aware that something is going on because theres too much excitement," she said.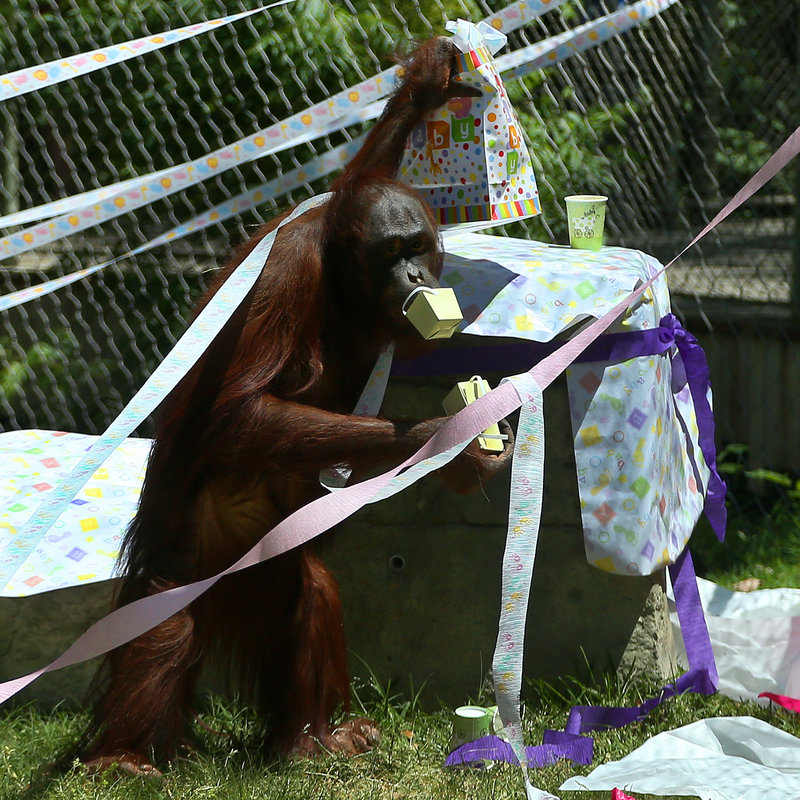 "Our public is excited," she said. "We want to make that connection. We want to teach our local people what they can do, too."
If you missed out today, however, don't worry. The zoo moved the shower from Sunday to today, so they're still throwing one tomorrow for the guests who wanted to come but couldn't make it on such short notice. Klutts says the more awareness the better.
That will start with choosing a name.
"After baby is born, we'll go ahead and get a name pegged," Klutts told NPR."We actually let the public vote on the top three names, and we raised money for entering it into conservation."
Sadly, we don't know the sex of the baby yet, so we're super excited for the birth announcement! Congrats Mei and KJ!