"Orange is the New Black" just spoofed "Black Mirror," and it's giving us so much life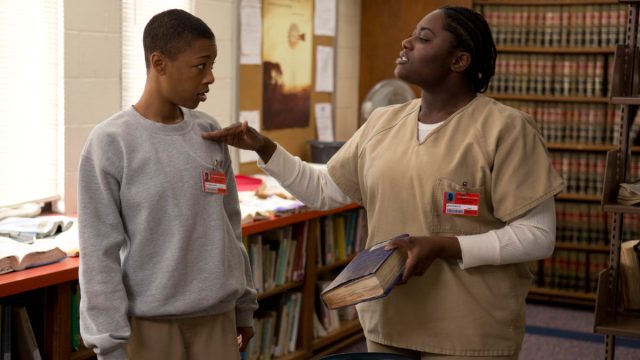 Today, Netflix surprised us by releasing *the* most amazing and heartbreaking video on the internet — an Orange is the New Black spoof of Black Mirror starring Danielle Brooks and Samira Wiley. OITNB fans are still reeling from the (spoiler) sudden and tragic death of Wiley's character, Poussey Washington, and with the fifth season just a few weeks away, we're waiting to see how the inmates of Litchfield are grieving.
As fans and the cast alike are still mourning the death of Poussey, Netflix is trying to give us a little closure, which is why Wiley and Brooks, who played Poussey's BFF Taystee, teamed up to recreate the "San Junipero" episode of Black Mirror.
Warning: the amazing spoof will probably cause an overload of emotions.
https://www.youtube.com/watch?v=tCmGiiinH1M?feature=oembed
For those who haven't seen Black Mirror, the "San Junipero" episode — ALSO SPOILERS — it takes place in the '80s and centers around a simulated reality (San Junipero) where the the dead or dying can have their minds uploaded and live alternate versions of their lives. In the Black Mirror episode, Kelly (Gugu Mbatha-Raw) and Yorkie (Mackenzie Davis) meet at a bar in San Junipero in 1987.
Not gonna lie, the spoof is *so* fitting, especially since Taystee is struggling with the loss of her best friend. Poussey's death was so tragic and unnecessary and it's been hard for fans to comprehend what's going to happen next. While the spoof is only a few minutes long, seeing Taystee and Poussey laughing and dancing together is a little cathartic.
Not gonna lie, imagining that "San Junipero" exists in OITNB is definitely going to make season five a little bit easier to watch!