Oprah just got refreshingly real on why she'll never, ever regret not having babies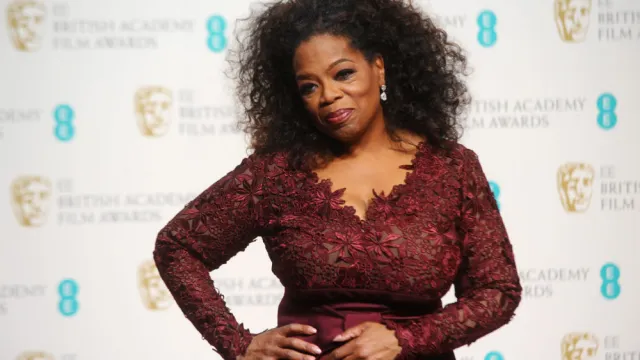 Even though she's changed countless lives and pretty much conquered the universe as North America's first (and currently, only) multi-billionaire black person — and of course, given away more brand new cars than The Price is Right — people are still fascinated by the fact that "Queen of All Media" Oprah Winfrey never raised her own children.
However, we're hoping that this recent interview with Good Housekeeping U.K. puts the kibosh on childless Oprah questions once and for all, as she makes it pretty damn clear that she does not and will not ever regret her lack of diaper-changing experience.
"I didn't want babies. I wouldn't have been a good mom for babies," Oprah, 63, told the mag for their April issue. "I don't have the patience. I have the patience for puppies, but that's a quick stage."
Oprah did give birth to a son once, at the age of 14. The pregnancy came from sexual abuse — she was raped by members of her family from the time she was nine years old — and the boy, who she later named Canaan, died premature at the hospital.
So you can probably understand, then, why Oprah chose to look at the 172 girls at her boarding school in Johannesburg, South Africa as her children instead of raising an actual child.
"When people were pressuring me to get married and have children, I knew I was not going to be a person that ever regretted not having them, because I feel like I am a mother to the world's children," Oprah continued.
"Love knows no boundaries. It doesn't matter if a child came from your womb or if you found that person at age two, 10 or 20. If the love is real, the caring is pure and it comes from a good space, it works."
(Do you ever stop to think of how insane it is that, out of all of the thousands of years you could have lived on this planet, you were lucky enough to have been born in the time of Oprah?
…No? Just us?)
"It is more rewarding that I would ever have imagined," Oprah continued, speaking about working with the Oprah Winfrey Leadership Academy for Girls. "I was doing this to help them, but it has brought a light to my life that I can't explain."
Oprah, who spoke back in November about how she's now seeing girls who joined her Academy at its 2007 beginnings graduate and "fulfill the potential that I saw in them when they were 11 and 12 years old," also once admitted to THR that she doesn't think she would have given her own kid the attention he or she deserved.
"If I had kids, my kids would hate me," she said. "They would have ended up on the equivalent of the Oprah show talking about me; because something [in my life] would have had to suffer and it would've probably been them."