Oprah Winfrey's USC commencement speech is an inspiring reminder that we have the power to fight fake news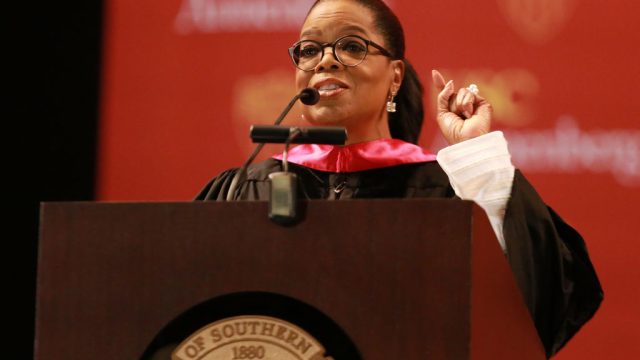 What's more exciting than graduating? Graduating and having a celebrity deliver your graduation speech. Well, there's maybe ONE thing that could top that: Having Oprah Winfrey deliver your graduation speech. On Friday, May 11th, she did exactly that at the University of Southern California's Annenberg School for Communications and Journalism.
Sure, a celebrity commencement speech might feel gimmicky. But many famous people are more than worthy of speaking to a giant crowd of graduates. Oprah is a perfect example of that. In 2017, Pharrell Williams used his NYU commencement speech to send an important message about women's rights. That same year, Janelle Monáe spoke to Dillard University about the American Dream, and her words are still bringing tears to our eyes. Lauren Graham's commencement speech at her own Langley High School in 2017 was so well-received, she recently published it as a book called In Conclusion, Don't Worry About It.
Shonda Rhimes, Michelle Obama, Dame Helen Mirren, Katie Couric, Nora Ephron — all of these people have delivered commencement speeches that shaped the minds and lives of so many graduates. (And non-graduates, and graduated-a-long-time-ago graduates.)
Oprah's USC commencement speech is full of wisdom for everybody.
She's easily one of the most inspirational, influential, and powerful humans on Earth. When she speaks, we all listen. And Oprah's USC commencement speech had it all: warnings, realism, hope, and a beautiful quote from Maya Angelou. She kicked off her speech with some "bad news" about communication, reminding us that we're in a tough space right now.
"Everything around us, including and in particular the internet and social media, is now being used to erode trust in our institutions, interfere in our elections, and wreak havoc on our infrastructure. It hands advertisers a map to our deepest desires, it enables misinformation to run rampant, attention spans to run short, and false stories from phony sites to run circles around major news outlets. We have literally walked into traffic while staring at our phones."
Oprah went on to note the "false stories from phony sites" that are "run[ning] circles around major news outlets." She's obviously not wrong, and reminding a group of Communications and Journalism graduates that they have a responsibility to fight fake news is a powerful approach to a commencement speech.
Naturally, Oprah had some positive words to share as well.
She didn't leave the grads with the disappointing realism about the state of news right now. She instilled in them a sense of responsibility, hope, and courage.
"The good news is there really is a solution. And the solution is each and every one of you because you will become the new editorial gatekeepers, an ambitious army of truth-seekers who will arm yourselves with the intelligence and the insight and the facts necessary to strike down deceit. You're in a position to keep all of those who now disparage real news, you are the ones who are going to keep those people in check."
"Ambitious army of truth-seekers" is a title even more powerful than "USC graduate." We hope this goes on each and every one of these students' resumes.
We already know that Oprah is an incredible person who embodies justice, strength, and pure badassness. Her full USC commencement speech is worth a watch regardless of who you are or what you majored in. People with Communications and Journalism degrees do have a responsibility to this nation, but so do all of us.
Watch Oprah's full USC commencement speech below.
https://www.youtube.com/watch?v=DnKu46WGajo?feature=oembed
Like Oprah said, we have to declare war on cynicism. We can all do that.