Here's how to watch Oprah's star-studded town hall on systemic racism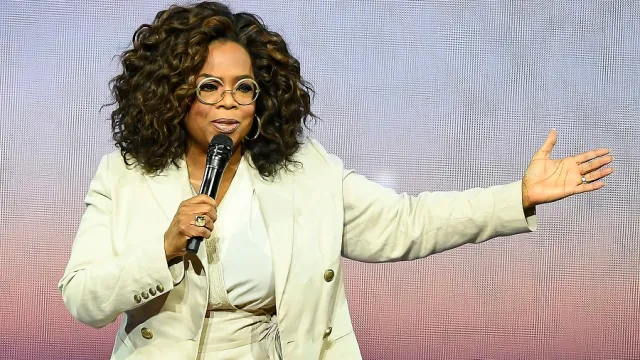 In an effort to highlight Black artists, activists, academics, and politicians to discuss "where we go from here," Oprah Winfrey has assembled a star-studded town hall special about systemic racism in America. The media mogul's upcoming two-night special is titled OWN Spotlight: Where Do We Go From Here?, and it will air in two parts on Tuesday, June 9th, and Wednesday, June 10th.
Winfrey will be joined by a slew of powerful guests, including politician Stacey Abrams, journalist Charles M. Blow, Atlanta Mayor Keisha Lance Bottoms, filmmaker Ava DuVernay, professor and author Jennifer Eberhardt, journalist Nikole Hannah-Jones, historian and author Ibram X. Kendi, actor David Oyelowo, Color of Change founder Rashad Robinson, and NAACP national board member Rev. Dr. William J. Barber II.
In a statement announcing the special, Winfrey told Variety that she's "been having private conversations with friends and thought leaders about what's next and where we go from here."
"I thought it would be both of interest and service to bring their ideas, concerns, and comments into a national spotlight," Winfrey said.
She's also serving as executive producer of the special alongside Tara Montgomery, the executive vice president of programming, production, and development for OWN: Oprah Winfrey Network.
Thankfully, it'll be easy to tune in to the special. It will air on OWN as well as the 18 other networks under OWN's parent company, Discovery, including TLC, the Discovery Channel, and HGTV at 9 p.m. Eastern. We can't wait to tune in, but for now, we'll be taking the time to learn more about each panelist and the important racial and social justice work they've done in their respective fields.