Oprah said the BS of politics would "kill her," so no, she's not running for president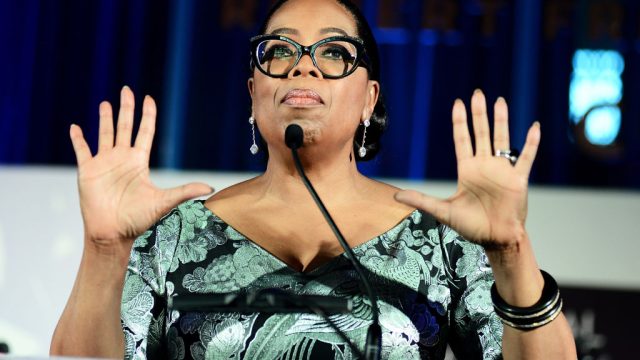 There was a brief moment in time when it looked like Oprah might run for president. After a viral Golden Globes speech in January 2018, the world began chanting "Oprah 2020!" It was a nice thought, and Oprah played coy for a minute, but she's shutting down the rumors once and for all by point-blank calling politics "bullshit." The media mogul and philanthropist got real about her nonexistent presidential run in the August 2018 issue of British Vogue.
"I would not be able to do it," Oprah told the magazine. "It's not a clean business. It would kill me."
"In that political structure ― all the non-truths, the bullshit, the crap, the nastiness, the backhanded backroom stuff that goes on," she added. "I feel like I could not exist."
The above comments are extreme, but they probably needed to be said because Oprah's been trying to squash the political rumors for months now, and nobody believed her. After her triumphant Golden Globes speech, she revealed in the March 2018 issue of InStyle that being the president is "not something that interests me. I don't have the DNA for it," and then told Lin-Manuel Miranda during a Super Soul Conversation event that she was 100% not running for president.
Maybe we're so desperate for any kind of real leadership in the White House that we refused to believe Oprah isn't running, even though she's repeatedly told us she isn't.
We're curious where Dwayne "The Rock" Johnson stands on running for president? He famously told Vanity Fair after the 2016 election that he wouldn't "rule out" a presidential run. Then again, we honestly don't need another person from Hollywood in the white house. So, Alexandria Ocasio-Cortez for president? There we go.