Oprah Winfrey also donated $500,000 to the March For Our Lives, and her generosity will go a long way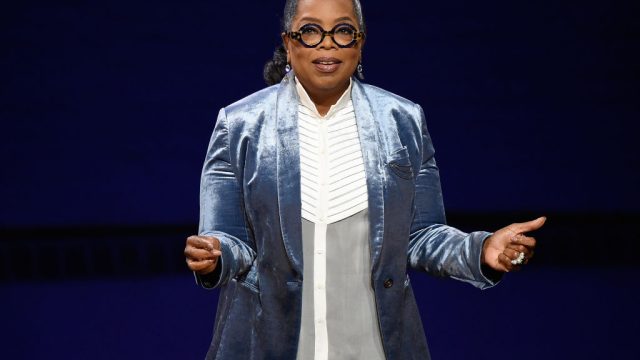 It's hard to believe that it's been only one week since the shooting at Marjory Stoneman Douglas High School in Parkland, Florida. The devastating shooting left 17 dead and many more injured. In the last seven days, the survivors have made it clear that this is a turning point. And their community has their back. They've rallied, delivered passionate speeches, and even announced a March on Washington to demand action on gun control. The March For Our Lives, which will take place on Saturday, March 24th, already has the support of many. And now, the students can add one more big name to their list of backers: Oprah Winfrey.
On Tuesday, February 20th, George and Amal Clooney showed their support for the March For Our Lives with a $500,000 donation to the cause. Soon after, Oprah announced on Twitter that she would match their generous contribution with a $500,000 donation of her own.
"George and Amal, I couldn't agree with you more. I am joining forces with you and will match your $500,000 donation to 'March For Our Lives.,'" Oprah tweeted on Tuesday. "These inspiring young people remind me of the Freedom Riders of the 60s who also said we've had ENOUGH and our voices will be heard."
In addition to George, Amal, and Oprah, other celebrities who have donated to the March For Our Lives include Steven Spielberg and Kate Capshaw, and Jeffrey and Marilyn Katzenberg.
Their generous contributions will go toward helping the students organize the March For Our Lives.
Heading the project are Florida school shooting survivors Jacqueline Coren, Emma Gonzalez, Cameron Kasky, David Hogg, and Alex Wind. They're working with nonprofit Everytown for Gun Safety to help make it happen.
"The funds will be spent on the incredibly difficult and expensive process that is organzing [sic] a march like this," the March For Our Lives GoFundMe page reads. "We have people making more specific plans, but for now know that this is for the march and everything left over will be going to the victims' funds."
As of this writing, they've raised almost $1.3 million of their $2 million fundraising goal. It's amazing what big change can happen in such a short amount of time.