9 of the best quotes from Oprah's empowering Golden Globes speech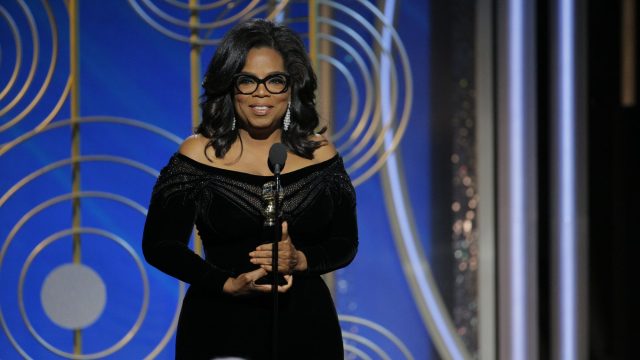 Want to feel inspired and empowered AF for a few seconds? In this horrifying current climate we are living in, when a new sexual misconduct allegation seems to come out every hour on some days, we need people like Oprah to remind us that change is coming, and it's only just on the horizon in front of us. Accepting the Cecil B. DeMille award during the 2018 Golden Globes, Oprah gave an incredible, moving speech to the audience, and even the viewers at home could feel the electricity in the room.
But honestly, Oprah's speech wasn't for her Hollywood comrades in the theater during the awards show. Oprah's speech was for us, for the young girls and women out there who could really use a pep talk right now.
The whole speech is something worth a read and listen, but here are just some of the best quotes to give you strength to get through another day.
1. "It is not lost on me that, at this moment, there is some little girl watching as I become the first Black woman to be given [this] award. It is an honor and it is a privilege to share the evening with all of them."
2. "Gayle… has been the definition of what a friend is."
3. "It is the [unyielding] dedication to uncovering the absolutely truth that keeps us from turning a blind eye to corruption and justice and victims and secrets and lies. I value the press more than ever before, as we try to navigate these complicated times."
4. "What I know for sure is that speaking your truth is the most powerful tool we all have. And I am especially proud and inspired by all the women who have felt strong enough and empowered enough to speak up and share their personal stories."
5. "I want tonight to express gratitude to all the women who have endured years of abuse, because they, like my mother, had children to feed and bills to pay and dreams to pursue."
6. "For too long women have not been heard or believed [when speaking their truth], but that time is up."
7. "The time is up!"
8. "[The change is] here with everyone who chooses to say 'me too' and every man who chooses to listen."
9. "[We need to] maintain hope for a brighter morning, even during our darkest nights. I want all the girls watching here and now [to know] that a new day is on the horizon."
Viva la Oprah, now and forever.