Girl power: Oprah endorses Hillary Clinton for president
Oprah has some advice for voters who want to live their best lives: vote for Hillary Clinton.
In a red carpet interview with Entertainment Tonight, Oprah enthusiastically threw her support behind Hillary, smiling as she recited the popular Clinton campaign slogan, "I'm with her."
When asked about the prospect of having our first female president (such a thrill to even type that sentence!), Oprah said, "I really believe that is going to happen. It's about time that we make that decision."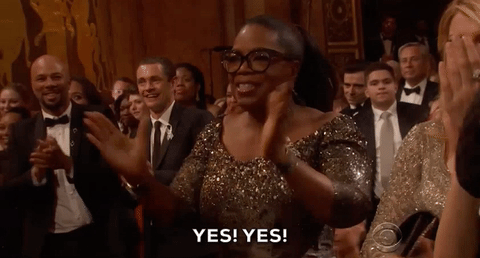 "Regardless of your politics," she went on, "it's a seminal moment for women. What this says is, there is no ceiling, that ceiling just went boom! It says anything is possible when you can be leader of the free world."
Amen, Oprah! While O endorsed Barack Obama over Hillary in the 2008 Democratic primary, she was careful not to disparage Hillary in the process, saying at the time, "Because I am for Barack does not mean I am against Hillary or anybody else. I have not one negative thing to say about Hillary Clinton."
Clearly, her respect for Hillary hasn't waned over the years.
And hey, remember that time Donald Trump said he'd love to have Oprah as his running mate? Something tells us that's definitely not going to happen now. Although Clinton/Winfrey 2016 is a presidential ticket we'd sure love to see. Who has a button maker? Let's get this thing going.