Oprah's iconic book club is getting a dramatic 2019 makeover, and here's what to know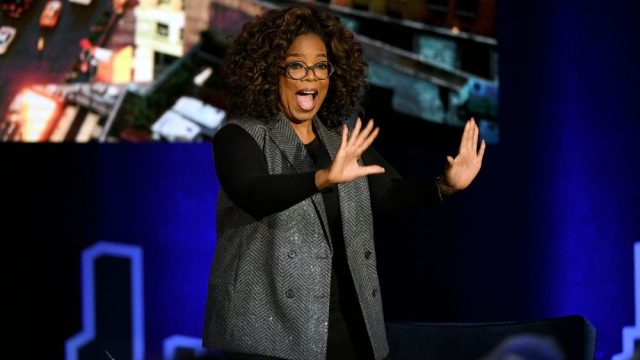 For years, Oprah's Book Club has been instrumental in spurring book sales, generating discussions, and lifting talented writers out of obscurity. Now, the talk show queen's coveted seal of approval is undergoing a dramatic transformation. On Monday, March 25th, Oprah took the stage at the Steve Jobs Theater in California with news of a powerful partnership—with Apple.
"There's nothing more thrilling than being transported by a brilliant book—nothing," she told the assembled audience, according to Vulture. "The only thing more gratifying than an extraordinary read is being able to share that experience with others, and we're going to do just that by building the biggest, the most vibrant, and the most stimulating book club on the planet."
While she didn't provide many more details about the way the updated book club will work, she did share her mission to unite people through stories and to make conversations about books more accessible.
"This is a club, imagine, where Apple stores stream a conversation with the author and me across all the devices, across all borders," she continued, "uniting people [through] stories that remind us that, no matter who you are or where you're from, every man, woman, and child looks up at awe at the same sky. So I want to literally convene a meeting of the minds through books.
Because this is Oprah we're talking about, the revamped book club wasn't her only announcement: the media mogul also unveiled two new projects under Apple. The first is a docuseries called Toxic Labor about sexual harassment and assault in the workplace. The second is a series about mental health issues like depression, PTSD, and anxiety.
We are extremely here for all of this.
There's no official timeline on any of these projects as of yet, so we'll just have to be patient.