Oprah and Ava DuVernay made a Netflix special together and you can watch it NOW!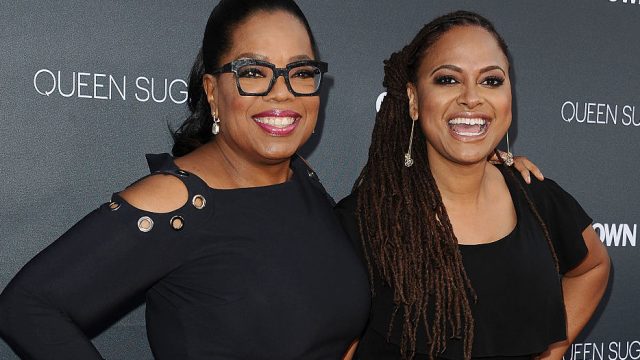 Filmmaker and director Ava DuVernay is no stranger to success. Her 2014 film, Selma, earned both Golden Globe and Oscar nominations, as well as making many "Best of 2014" lists. Not only is she documenting history, she's making it: DuVernay scored the first "Best Director" Golden Globe nomination for a black woman. Her newest endeavor, a brilliant documentary, proves that Selma was just the beginning.
13th, a Netflix documentary that explores racism in the penal system, earned DuVernay an Oscar nomination for "Best Documentary."
The film argues that the modern penal system creates, in effect, modern slavery.
In an interview with NPR, Duvernay states that, "...all crimes are not created equal, that all sentences are not equal."
The documentary prompted "a much needed global conversation," says Netflix's VP of documentaries, Lisa Nishimura.
Out of those discussions came the idea for 13th: A Conversation with Oprah Winfrey and Ava DuVernay. As Nishimura added in a statement:
"The 13th interview special was born from an organic post-screening discussion between two of the most influential and insightful women in media, Ava DuVernay and Oprah Winfrey, who invite us to share in their personal feelings surrounding one of the most important issues of our time.
The special, released on January 26th, covers a behind-the-scenes look at the film. Additionally, Oprah and Ava DuVernay discuss reactions to the film. Perhaps inevitably, the conversation also includes the current political state in the US.
In addition to 13th, several other documentaries about racial issues scored Oscar nominations, including Ezra Edelman's O.J.: Made in America, and Raoul Peck's I Am Not Your Negro.
The impact of these films is to educate, of course, and DuVernay has said:
"We can all work from a place of knowledge to try to get to a place where we just do better as Americans."
Click below to see a snippet of the dynamic conversation between the two:
https://www.youtube.com/watch?v=OFAyhgY92P4?feature=oembed
We can't wait to see the rest!