Opinion: Jordyn Woods was smart to handle her Kardashian drama with the help of another famous family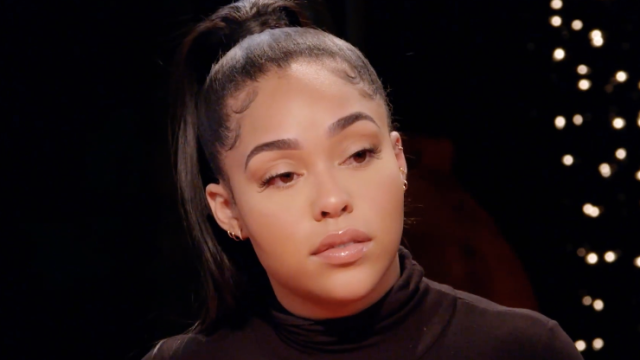 Author Michael Arceneaux discusses Jordyn Woods appearance on Red Table Talk  following the Tristan Thompson cheating allegations, and exactly how Woods beat the Kardashians at their own game.
Jordyn Woods was savvy as hell to enlist the help of Jada Pinkett Smith, essentially her play auntie, to deal with the controversy around her alleged some-sort-of-romantic-relationship with Tristan Thompson, the basketball player more known for cheating on Khloe Kardashian even after impregnating her. Whenever someone falls out of good graces with the Kardashians, select media outlets curiously start reporting all sorts of bad information about that person. Next, their lil' friends who desperately cling to the celebrity-adjacent status they've netted from their Kardashian affiliation proceed to publicly pounce on that person. The end result is that ex-friend becoming something of a pariah.
See the fate of select former employees, Blac Chyna, and the artist formerly known as Kris Humphries, among others. The same thing was beginning to happen to Jordyn Woods. She not only had to move out of her BFF Kylie Jenner's home, but she was officially on "Don't bring her ass over to my house" status with the entire family. And naturally, the stories started pouring out of E! and Page Six, followed by keyboard thugging from the oh-so-happy-to-be-here friends of the Kardashians—roles now filled by Malika Haqq and Larsa Pippen. Why are those women in their 30s and 40s arguing with a barely twenty-something?
In any event, that sort of plan could work on Tokyo Toni's daughter. But as they're surely learning now, it won't work on someone considered an extended family member of the Smith family.
https://www.facebook.com/plugins/video.php?href=https%3A%2F%2Fwww.facebook.com%2Fredtabletalk%2Fvideos%2F416230735613094%2F&show_text=0&width=560
Woods appeared on Jada's Facebook series, Red Table Talk, on March 1st to share her side of the story. And if Woods wasn't already very much aware of how the Kardashian family plays it, Will Smith certainly was. Will knows Woods through her late father who worked as a sound engineer on The Fresh Prince of Bel-Air, and he has only made one previous appearance on Red Table Talk. Knowing that he isn't a regular guest, I laughed like hell when he FaceTimed into the show and dispelled the following advice to Woods:
"Take your medicine and tell your truth," Will said. "This is a part of what growing up is…this world is not gonna break you. We won't allow it."
That is a very slick, Hollywood professional way of saying, "I'm not about to let that family play you."
Smith did say something curious, though. When he said, "I watched you become a woman and I saw that one day we'd be here," I interpreted that as, "I warned you about them." After Will finished, it got even better because Jada did not let her off the hook.
"There's a family that feels betrayed by you," Jada explained. She made Jordyn recount exactly what happened and acknowledge how it impacted peoples' lives, and then pushed her to offer real contrition. I am so into Jada Pinkett Smith interview style, which is a mixture of concerned auntie and 1980s Barbara Walters or Oprah Winfrey.
And while some complained about it online, Jada was right to note that, as a Black woman, Jordyn Woods will experience far more harassment online no matter what. Not only is that unfair, it is hypocritical. Jordyn Woods was wrong, but it's not like select Kardashian sisters haven't been accused of similar behavior in their romantic lives.
Jordyn still might have been acting like the villain of many an R&B ballad, but her Red Table Talk chat was the best confessional performance I've seen since me right before a mass in 1998. Still, Khloé Kardashian remains unimpressed.
Khloé, I understand that you're hurting and you have every right to be, but uh, have you met you? You're celebrating Tristan for addressing the situation privately when your family has sold its privacy for a decades-long reality show? Keeping Up With The Kardashians is probably already rushing an episode tied around this drama, but you know, sure, okay.
With all due respect, Tristan Thompson has been a thot so no one can break up a home where a man already has his penis out the door the majority of the time. Khloé's mission to malign Jordyn backfired, and I won't link to any of the tweets mocking Khloé for her statement, but ouch. She is getting dragged up and down Cardi B's internet, bless her heart. I hope Kris Jenner takes Khloé's phone away, and I hope that family leaves Jordyn Woods alone.
I don't condone what Woods did, but as she explains it, her behavior wasn't actually as bad as first reported. She deserved to have her say and protect her image from being permanently tainted. Not only did she get to have her say with an A-list family who commands attention, she did so on a platform with s a much wider reach than the reality show that launched the Kardashians into fame. Jordyn Woods' episode of Red Table Talk netted more than 6 million views in three hours.
In pursuit of overcoming her thot tale, she beat them at their own game with slicked back hair, subtle makeup, and some A-list friends. My hero.
Michael Arceneaux is the New York Times bestselling author of the recently released book I Can't Date Jesus from Atria Books/Simon & Schuster. His work has appeared in the New York Times, Washington Post, Rolling Stone, Essence, The Guardian, Mic, and more. Follow him on Twitter.