Opinion: Cynthia Nixon should never stop running for governor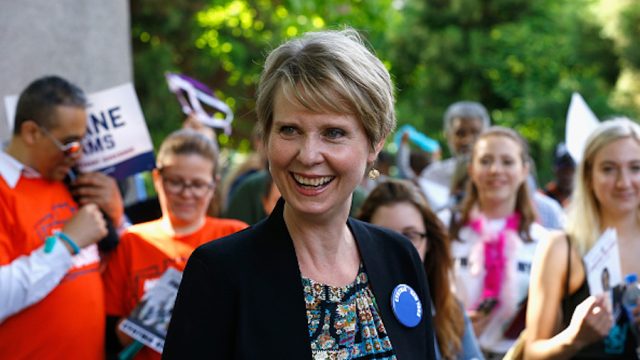 Author Michael Arceneaux on why he thinks actress and gubernatorial candidate Cynthia Nixon is a celebrity using her fame for the greater political good.
There are reasons to worry about a potential influx of celebrity candidates. It is disturbing to see that, now more than ever, access to wealth and fame appear to determine a political contender's chances at winning an election more than any known policy views. Yet, it is unfair to compare every single famous political contender to that blowhard in the White House.
Such was the case last week for Cynthia Nixon, Democratic candidate for governor of New York, who was once again compared to President Trump during an appearance on The View. Co-host Sunny Hostin said that when she saw Nixon's campaign merchandise — notably one item that read "I'm a Miranda and I'm voting for Cynthia" — she thought, "We've got a guy in the White House, a reality star, with no experience and it's not working out so well as far as I can tell." Hostin's concern was, "Do you think your celebrity is going to work against you?"
https://www.youtube.com/watch?v=elU0Ou6VjuQ?feature=oembed
Yes, her concern is understandable. But ultimately, celebrity only works against Nixon if people like Hostin keep framing the question within the context of the current president. As another co-host Joy Behar noted, "It's not like she's the first one," before going on to cite Ronald Reagan and Arnold Schwarzenegger. No, the former Sex and the City star is not the first of her kind, but she is, as the likes of the New York Times' Shane Goldmacher notes, different; she is a woman seeking a route typically only taken by famous men.
Goldmacher writes that Nixon is "not just bidding to become the first woman and first openly gay governor in the state's history," she is also seeking to become "one of the first female celebrities elected to a prominent political office anywhere in the United States."
The presumption that Nixon's past portraying Miranda Hobbes would aid her campaign is rooted in an ahistorical understanding of the way our political system often functions — namely for women, regardless of their recognizable names.
This concern also assumes that Trump won the election solely because of his celebrity. While being a household name for decades certainly helped, Bankruptcy Batista was also boosted by the mythology surrounding business owners. Former Republican presidential candidate Mitt Romney largely ran on the notion that, as the former CEO of Bain Capital, he had unique experience and could run government like a business, i.e. purportedly more efficiently. That kind of talk has long been conservative political erotica, but if we're not going to question that silly ideology, then why are we giving Miranda such a hard time?
And for all the discussion of problems created when celebrities run for political office, that same interview showed Cynthia Nixon utilizing an often unacknowledged benefit of being famous while running: Media access lets her advocate for less mainstream causes on popular platforms.
Indeed, on a daytime talk show, Nixon called to abolish I.C.E. "They have strayed so far from the interests of the American people and the interests of humanity — we need to abolish it," she explained.
Although there is chatter among the more progressive blocs of the electorate calling for the end of I.C.E., it is not a widely held view among Democrats — and certainly not one discussed on programs like The View.
Consider how many new people were introduced to such a political position because Cynthia Nixon used her time on The View to advocate for it.
And while some took issue with her decision to use the word "reparations," I appreciated Nixon's remarks in May that called for marijuana legalization on the basis that it can help reverse the damage that the War on Drugs had on the Black community (as Black people were disproportionately targeted at its height). "Now that cannabis is exploding as an industry, we have to make sure that those communities that have been harmed and devastated by marijuana arrests get the first shot at this industry," Nixon said.
https://www.youtube.com/watch?v=sWlmzWm0y8c?feature=oembed
Then there was her appearance on The Wendy Williams Show where she declared that it's about time the Democratic Party better cater to the Black voters — specifically Black female voters — who by and large have served as the party's lifeline.
Black people have often complained about being taken for granted by Democrats, so while much of the party still tries to curry favor with Trump voters, we have Cynthia Nixon: a candidate who is progressive in her politics and considerate of the communities who need more progressive policies enacted.
Am I supposed to care that she almost ruined Carrie Bradshaw's wedding to that guy I'm still not sure she should have ever married? Am I really going to lump every famous nouveau pol with the man currently drowning the country in idiocy, conspiracy, and racism? I refuse to let Donald Trump soil every single celebrity candidate, especially one who has proven as useful as Cynthia Nixon.
At this point, I don't care if it's Jackée, one of the members of Fifth Harmony, or someone I used to watch on Melrose Place with my older sister. If they can help advance progressive politics, I root for them.
Donald Trump may have exploited his fame in the darkest of ways, but Cynthia Nixon shows there are still other valuable ways to channel one's ability to garner publicity faster than most.
Now, Nixon might not have much of a shot at beating Governor Cuomo in the fall, but Alexandria Ocasio-Cortez — a 28-year-old Democratic Socialist who defeated 10-term incumbent Rep. Joe Crowley in New York's 14th congressional district on Tuesday — has reminded us that implausible does not mean impossible. Nixon endorsed Ocasio-Cortez over Crowley, a man who was lauded as a potential successor to Nancy Pelosi for Speaker of the House in the near future.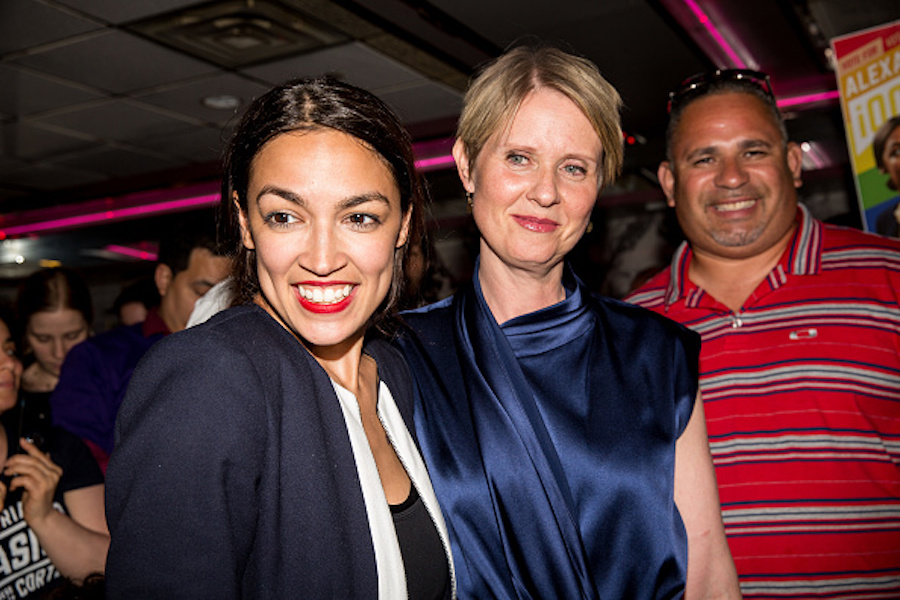 History may or may not repeat itself, but Nixon's impact is clear: She certainly has pushed Cuomo to lean far more left in terms of policies than he's used to. She's still using her platform to remind the world that New York City's public transportation is not functional.
If this is what to expect of her political career, may Cynthia Nixon never stop running for governor.
Michael Arceneaux is the author of the forthcoming book I Can't Date Jesus from Atria Books/Simon & Schuster. His work has appeared in the New York Times, the Washington Post, Rolling Stone, Essence, The Guardian, Mic, and more. Follow him on Twitter.