Could we see an openly gay Dumbledore in the "Fantastic Beasts" sequels?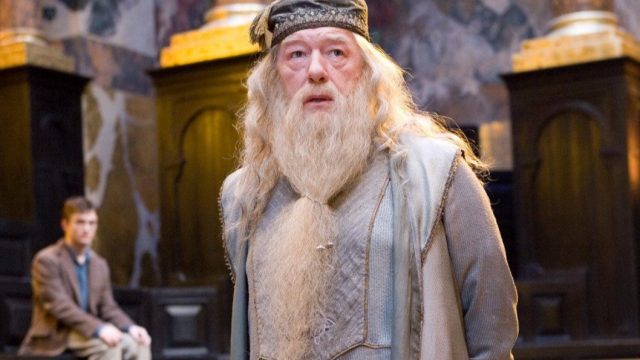 With news that Albus Dumbledore would be appearing in the Fantastic Beasts and Where to Find Them sequel confirmed, we've all been wondering whether we'll get to see a part of the great wizard that J.K. Rowling revealed on Twitter.
While it's not explicitly discussed in the Harry Potter books or movies, fans were quick to note, after reading Harry Potter and the Deathly Hallows, that Dumbledore's relationship with a certain dark wizard, Gellert Grindelwald, seemed more than platonic.
In fact, this was something that J.K. Rowling seemed to confirm herself.
Well, now J.K. Rowling has opened up further about whether we'll get to see this side to Dumbledore when he appears in the upcoming Fantastic Beasts sequels.
As reported by Screen Rant, J.K. Rowling was quizzed about Dumbledore's sexuality at a press conference where she spoke cautiously what we could expect from a young Dumbledore.
"I can't tell you everything I would like to say because this is obviously a five-part story, so there's lots to unpack in that relationship," she explained, referring to Dumbledore's friendship with Grindelwald. "I will say that you will see Dumbledore as a younger man and quite a troubled man because he wasn't always the sage [mentor]. He was always very clever, but we'll see him at what I think was the formative period of his life. "As far as his sexuality is concerned, watch this space," she finished.
The news was revealed by director David Yates in an interview with Harry Potter fan site, The Leaky Cauldron. Yates also revealed, however, that they had yet to cast a young Dumbledore, although there would be mentions to the Hogwarts headmaster in the first instalment of the film franchise.
J.K. Rowling has previously faced criticism for the lack of LGBTQ+ representation in the Potter series.
Most recently, fans were perturbed by the relationship between Scorpius Malfoy and Albus Potter in the Harry Potter and the Cursed Child, the recent stage sequel to the Potter series.
Therefore we think it's great that Rowling seems to be, at last, reflecting this part of Dumbledore's history, and we can't wait to see how things unfold.
In the meantime, Fantastic Beasts and Where to Find Them is released on November 18th.