These 30-something women are proof you should go into business with your bestie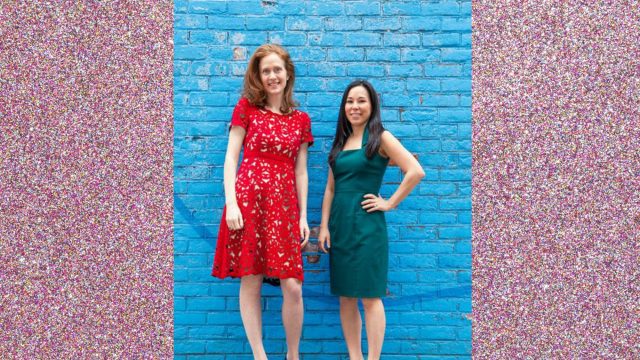 In today's age of relationship coaches, experts for everything, and "there's an app for that," it may be time to upgrade the way we bounce back from a breakup, too. Enter Onward, a "post-breakup concierge service" that helps the heartbroken sort through all the life stuff that comes after a relationship ends—from moving to finding a therapist. After experiencing their own difficult breakups, BFFs and business partners Lindsay Meck and Mika Leonard, both 34, transformed their romantic setbacks into Onward. The dynamic duo launched their unique service on Valentine's Day this yearto members in New York City, but because the business of heartbreak is always booming, Onward will soon be expanding to more cities across the country, including Los Angeles and Washington, DC.
So far, Onward has helped clients like Nancy, who left a long-term relationship and was left to pay the full share of her one-bedroom apartment's rent. Onward helped her find a financial advisor to develop a new personal budget and investing strategy, worked with her to tighten her resume and connect her with an HR recruiter to pursue higher-paying employment opportunities, identified and secured a therapist in her neighborhood to process the emotional upheaval, and even found a wonderful dating coach to give her the tools and confidence for when she's ready to get back out there.
As the author of an unusual book on heartbreak, I was particularly drawn to this inventive business and the amazing women running this company together, so I sat down with Meck and Leonard to talk about everything from BFF business tips to fangirling over women-led companies. They shared their insights on what it takes to run a business with your bestie, and what breakups and business have in common.
HelloGiggles (HG): How did you first meet? What's your friendship origin story?
Lindsay Meck (LM): Mika and I grew up in a small town in the Midwest called Oxford, Ohio, where there was just one elementary school and everyone knew everyone. We officially met in the fourth grade, when we got lumped in class with a pretty awful teacher and became fast friends, honestly, as a means of survival. I think we bonded over our love of the Goosebumps series and through shared detentions (our teacher didn't love girls who spoke out in class). After that, we were in it together—through high school, college in separate states, lives in different cities.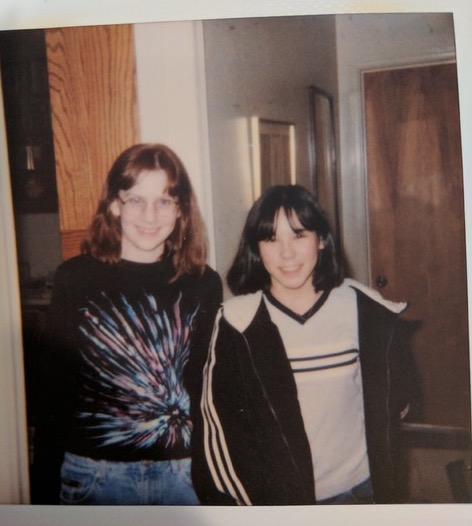 HG: How have you been able to maintain such a close friendship through so much change and so many life phases?
LM: Thanks to text, Gmail, and phone calls, we have managed to stay in each other's lives more than most people who live together—sometimes for better or worse. Mika has seen me through some of the hardest moments of my life—losing both my parents, breakups, and other challenging transitions—and also through awesome adventures, vacations, concerts, road trips. There are few friends with whom you can go on a pilgrimage to a Japanese American internment camp in Wyoming and also start a business.
HG: Onward was born out of your personal experiences with breakups. How did your breakups affect your friendship, and then also inspire your business?
LM: We have always been very close, but I will say when both of us were in challenging relationships, that put some strain on our friendship. In some ways, friends keep you honest. They believe and want you to be happier, and seeing you continue to suffer can be hard for both of you. Coming out of our respective breakups (Mika first, about six months earlier), we were able to bond through this shared experience. Mika was on the phone with me constantly as we were sorting through the aftermath of our relationships. We were each other's accountability buddies to ensure that neither of us fell back into bad patterns. And out of that came the business idea. If this is something we're going through, others are dealing with it also, and may not have a best friend to support them through a breakup and act as their Onward concierge.
HG: Has heartbreak taught you anything about being an entrepreneur? What do breakups and business have in common?
Mika Leonard (ML): Heartbreak certainly tests your strength of character, and I would argue that being an entrepreneur and entering into the small business ownership world does the same. Love and entrepreneurship also share parallels. The highs are high and the lows can be very low. Heartbreak is one of the lows of love, much like a perceived business failure can feel like a low.  The key thing is to remember these lows are temporary states of mind. It's how we work through that low point that ultimately shows our stick-to-it-iveness. I do think that going through a heartbreak ultimately makes you a stronger person, and those traits carry over into business.
HG: Many experts say you definitely should NOT go into business with friends—it's too messy, you risk losing the friendship, etc. Why do you disagree?
LM: Of course it's hard. Like any partnership or relationship, there are expectations, challenges, surprises, and adventures. But who better to go on that journey with than someone who you care about so deeply and who knows you so well? Also, when you're launching a company, especially one in a new space, like post-breakup concierges, there are going to be unexpected twists. Having someone with whom you share a shorthand, and also whose opinion you value as you iterate and evolve, can be so useful. You learn a lot through working together in that way.
HG: How has being business partners affected or changed your friendship?
ML: I don't think our friendship has necessarily changed. We respect what the other person is bringing to the table from a business or entrepreneurial standpoint. I think it's important to point out that, maybe outside of a school project many years ago, Lindsay and I have never worked together. Our professional lives pre-Onward never intersected, and we haven't lived in the same city in over 15 years. I never knew what she is like at work and vice versa. If anything, this has been fun for me, a bit of a peek behind the curtain. Now our creative and entrepreneurial talents can be shared, as well as our successes. It's a new and neat facet to our 25+ year friendship.
HG: What are the downsides of being friends who are in business together? How did you overcome these challenges?
ML: I think the biggest challenge is that the relationship doesn't end at the office. Any work or personal conflict we may have, which is inevitable, doesn't remain at work or at home. The best way to work through any challenge is open communication. Our many years of friendship have enhanced our communication skills with each other, and this is something we are continuing to build on every day, especially since the launch of Onward.
HG: How have your different personalities come out as business partners?
ML: Lindsay and I are undoubtedly very different people, from our look to our general demeanor. We also pursued vastly different career paths. We both shine in different areas of the business, which is partially how we determined who would fill the role of CEO and COO. Lindsay is a creative, and while I wouldn't say that I am not a creative person, her creativity comes out in a more obvious way. I really enjoy the behind-the-scenes work, the non-sexy elements of business that ultimately keep the lights on. This aligns perfectly with the role of COO.
HG: What were your career backgrounds before Onward, and how have you transferred your professional skills?
LM: I was a Broadway theatre and live events producer for musicals, plays, awards shows, etc.  In a lot of ways, similar project management skills to managing the aftermath of a breakup—many tasks to accomplish in a finite deadline and a fair amount of drama, always. There's this saying, "The show must go on," that all theatre people know, and honestly I think that same sentiment can be applied to a breakup. Your life must go on, no matter what happens, how hard it is, or how much or little you have rehearsed for this moment. Through theatre, you learn to creative problem-solve, harness your resources, and certainly how to work with people—all great skills for start-up life.
ML: My background has primarily been in the area of economic development, specifically working with Tribal Nations. I spent a fair amount of time in federal services, transitioned to working for the Miami Tribe, my own tribe. Then I moved to the financial sector, still working in Indian Country. This may seem a far departure from anything to do with Onward, but all of these jobs involved a lot of coordination and project management, skills that I bring to the Onward world today.
HG: Do you have any role models for successful businesses run by friends, or businesses created by women you admire?
LM: So many! Certainly Rent the Runway founders Jenn Hyman and Jenny Fleiss. I'm proud to say I was an early adopter of the service and remember getting a Tony Awards dress hand-delivered by a member of their core team in 2010 when they were in the trenches trying to see if their business model would work. I've been so impressed by how they've iterated and expanded their offerings, at each turn following their core values and listening to their clientele. I'd also say Audrey Gelman and Lauren Levine of The Wing female co-working space, where I belong, who are building a millennial-pink empire infused with progressive, activist values. Others in our fangirl pantheon of female founders: Whitney Wolfe Herd of Bumble, Marie Kondo, and my mom, who passed away in 2014. She started her own legal practice at a time when women didn't do that. She dedicated her 33-year career to providing affordable legal aid to families in Southwestern Ohio.
HG: Do you have any advice for BFFs who might want to go into business together?
ML: I would give similar advice to anyone wanting to take their dating relationship to the next level. First, know what you're getting into and set expectations. It's important to really know what your BFF or business partner expects of you and vice versa. You also need to be able to ask the tough questions. For example, money is a tricky topic, but it can't be avoided when entering into business; not just what your financial contributions will be, but how you will allocate spending. The last tip: be honest. If something is bothering you, don't let it stew. Be honest and open with one another. It will save you trouble down the road.