This Playboy and OnlyFans Model is Using Her Earnings to Rescue Stray Cats
It's been a lifelong dream for New York-based model Rachel Anne to open up a cat café.
She's graced the cover and the pages of Playboy three times, and has a successful and profitable OnlyFans account. But, her provocative pics aren't what has people talking these days.
38-year old model Rachel Anne recently went viral for announcing she's using her earnings from her lucrative modeling jobs  — to open up a cat café in upstate New York, near Schenectady.
A cat café is literally a place where you sit and have a cup of coffee, and pet cats. Purrfect for the person who wants all the cuddles, without the commitment. You can even enjoy a gluten-free pastry.
"The concept originated in Tokyo, where many people live in apartments and are unable to have pets," says Rachel. "It's perfect if you want to open up a laptop in the company of a cat, or very popular for families who have one member that's allergic," she says.
Or maybe you just need a little pet therapy. The use of cats as therapy pets is on the rise, and studies even show that they can help reduce depression in some people.
RELATED: This OnlyFans Model is a Mom and Says It's Her Most Lucrative Side Gig
While most models would say posing for Playboy is a dream come true, Rachel tells HelloGiggles that this new business venture tops any previous career highlights.
"It has been my dream to buy a building and open a cat café ever since I visited one when I was in Miami shooting the cover for Playboy," Rachel tells HelloGiggles. 
She's been documenting her journey on her TikTok and Instagram pages, and fans have been more than supportive.
One video even amassed more than 2-million views. It shows Rachel with the phrase "don't make an OnlyFans, that's embarrassing," then transitions to the model walking through the huge 4,000 square foot building she just purchased to house the cat rescue. She even shows the permit as proof.
While TikTok isn't necessarily known for being the most uplifting online community, it's clear that Rachel's followers are totally here for her feline-helping mission. One user commented "This is a much better flex than most girls with of [OnlyFans]," while another responded "you deserve a follow." 
Among the shots of her cuddling with cats, Rachel's videos show plenty of references to her Playboy-worthy booty. Now, she's showing the world that her heart is even bigger than her best asset.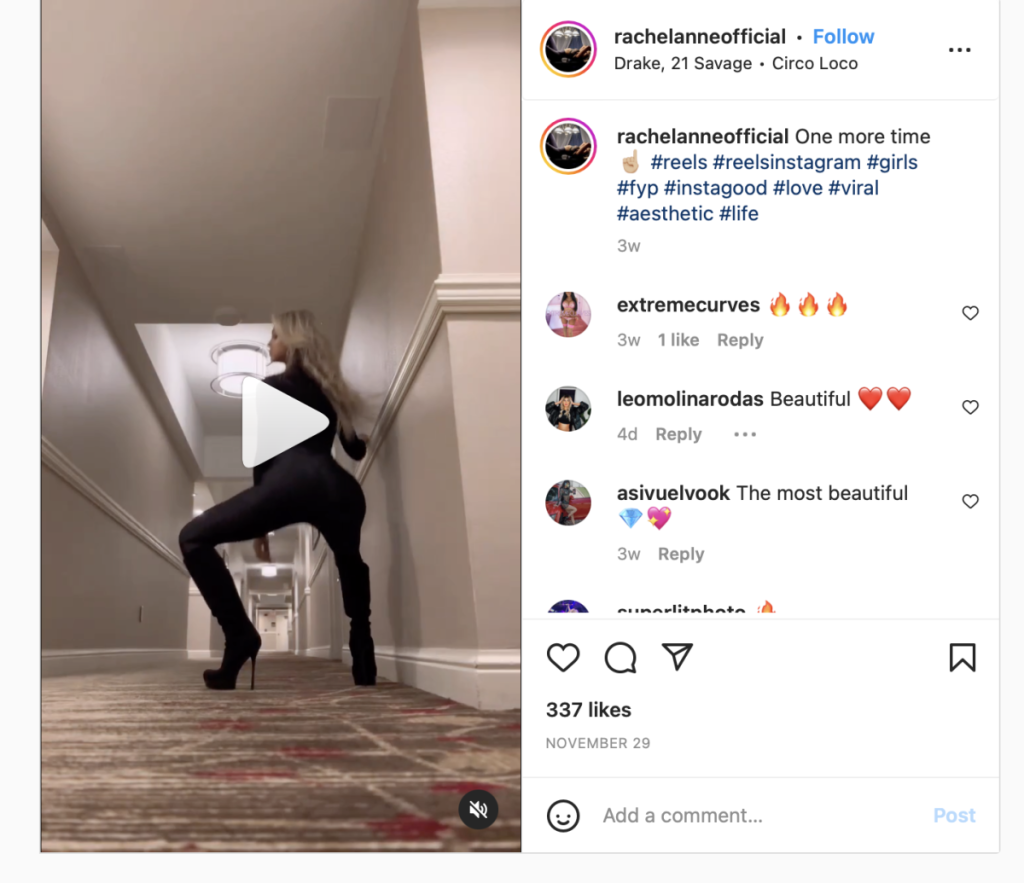 But don't call her a crazy cat lady. The stunning blonde has been volunteering at cat rescues for as long as she's been modeling.
She currently has three cats of her own and is fostering five others. Through volunteering at shelters, and fostering, she's helped hundreds of cats over nine years.
"I started out by fostering the cats until they could get adopted and I fell in love with being able to help change their lives and give them a positive, healthy start to life," explains Rachel.
For the business, Rachel is partnering with local nonprofit Kitten Angels, so the cats will be adoptable for those who stop by for a croissant, and fall in love with a furry friend. She plans to open up its doors in February of 2023.
Jené Luciani Sena is an accredited journalist and internationally-renowned bestselling author, regularly seen on national TV outlets such as Access Daily, Today and Dr Oz. Touted as one of Woman's World Magazine's "Ultimate Experts," she's a TEDTalk speaker and a busy Mom of 4.
Read more