This OnlyFans Model Is a Mom and Says It's Her Most Lucrative Side Gig
One woman shares her journey from suburbia to Internet sensation and how it's the most successful side hustle she's had.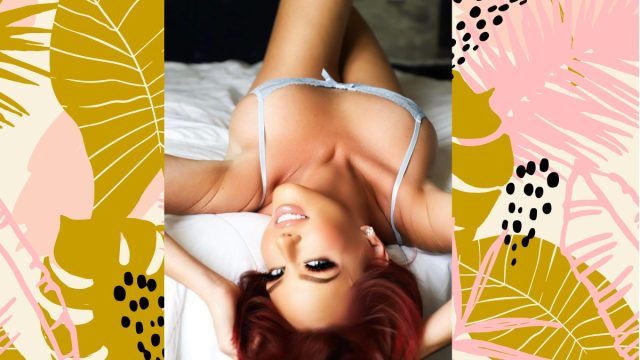 Many women have side hustles these days. In the gig economy, it's really not that unusual for someone to have a full-time job while they sell Pampered Chef on the side or maybe even run a business on Etsy.
In fact, a recent survey found that millennials are 32% more likely than older generations to work more than one gig.
Linden McKenzie, for instance, is no stranger to self-employment and the hustle that comes with it. After running a successful candle business for the last 10 years, the wife and mom who's based in upstate New York shocked Facebook friends recently when she suddenly switched from posting photos of her hand-crafted candles to those of herself… scantily clad. And using the screenname Ruby Red Barbie.
It's all about branding, after all… and McKenzie has been raking in huge sums of money ever since.
"I have always loved feeling beautiful and dressing up," the 41-year-old (who's just beyond the millennial cutoff) tells HelloGiggles of how she came up with the idea. "So when I came across the OnlyFans platform, it seemed like the perfect thing for me."
For those who don't know, OnlyFans is an online app and streaming platform where people can pay for private content with a monthly subscription. Content creators use it to grow and monetize their fan base, and the site even boasts celebrities like Carmen Electra, Denise Richards and her daughter Sami Sheen, and Cardi B. as creators.
RELATED: 40 Questions to Ask Your BFF to Find Out How Well You Two Know Each Other
Unlike other social media-based streaming platforms, though, OnlyFans allows explicit sexual content — making it a fave among porn stars, and also, a site you wouldn't want to be caught dead looking at while at work.
But, for many, the platform can be the key to financial freedom. Even Cardi B. has bragged about making up to $10 million dollars a month by creating content for the site. And McKenzie can relate.
The New York mom says she heard about OnlyFans through word of mouth. "But, people were talking about it in a negative way and I felt the need to find out [more] for myself."
So, she set up a boudoir-style photoshoot with a local photographer and went about setting up an account on the platform with the username @Rubyredbarbie24, a nod to her signature fire-red hair.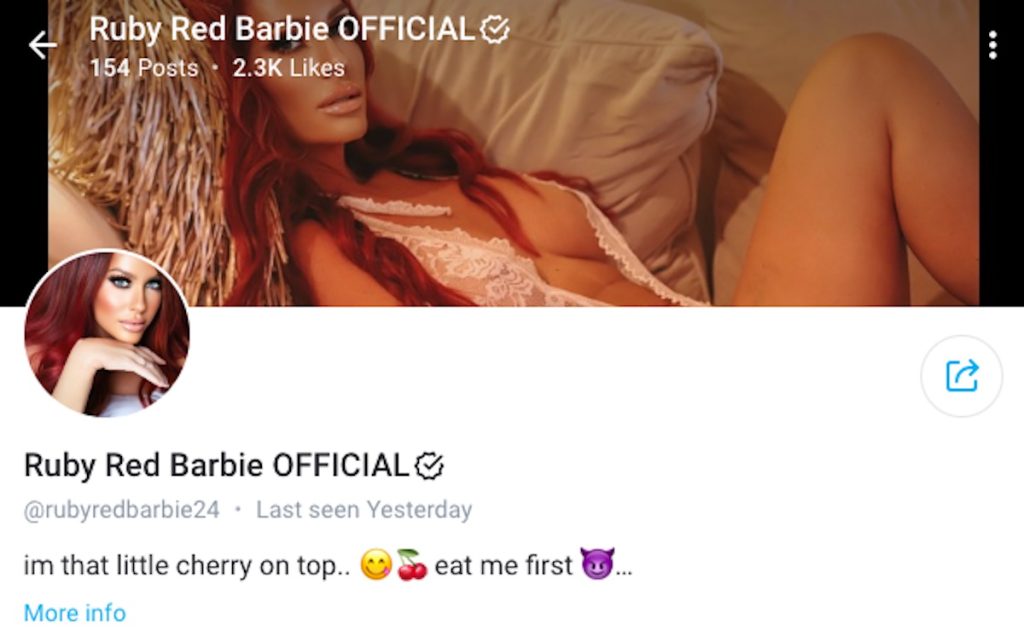 Armed with content to post and a business model to follow — content creators on OnlyFans set their own rates, so McKenzie decided to charge $4 a month for new subscribers to be able to access her feed — Ruby Red Barbie made her debut online.
McKenzie used her own, existing Instagram following to promote her new side hustle, quickly amassing a slew of subscribers within a few months.
To keep engagement high, she knew she had to upload new photos and videos (most featuring her posing in lingerie) on a consistent basis. She'd also have to interact with her growing fan base and keep up a regular fitness, diet, and beauty regimen — as, not surprisingly, her success on the site relies heavily on the way she looks.
Now, McKenzie is crushing it. She says she makes several thousands of dollars per month from the gig and has enough subscribers to sustain herself financially. She prefers not to share a specific figure, but she says it's more than she makes with her candle business or any other side hustles she's tried.
Her revenue does fluctuate from month to month, though, McKenzie admits. And that's all due to how much time she devotes to the platform. On average, she spends about two hours a week producing content and interacting with fans.
The experience, she says, has been totally worth it. "It has given me not only financial freedom but also a great confidence boost." She notes that the platform is welcoming to different body types, statuses, and ages, which has made her feel welcome.
McKenzie has been married for 13 years. Her husband knows about her lucrative gig and is supportive of it.
Other friends and family, McKenzie admits, have had mixed reactions. Of course, there have been the denouncers. But to McKenzie's surprise, some were so inspired by her success that they went as far as to open their own accounts.
But, perhaps the true litmus test is how McKenzie's 12-year-old daughter feels about her mom being on OnlyFans. Well, it appears this mom has passed with flying colors. Her daughter says her mom is "beautiful, and should do whatever makes her happy."
"I feel like I'm doing a good job as a mom when I get that reaction from her," McKenzie says.
Reflecting back on her choice of side gig, McKenzie feels like she's not the only one who could find success with this path. Regardless of what others and even her family may think, she's found it to be empowering — a celebration of who she is and what she looks like today. And it pays a helluva lot more than candles.
Jené Luciani Sena is an accredited journalist and internationally-renowned bestselling author, regularly seen on national TV outlets such as Access Daily, Today and Dr Oz. Touted as one of Woman's World Magazine's "Ultimate Experts," she's a TEDTalk speaker and a busy Mom of 4.
Read more