There's still only one woman on Forbes' highest paid comedians list, and that's a bummer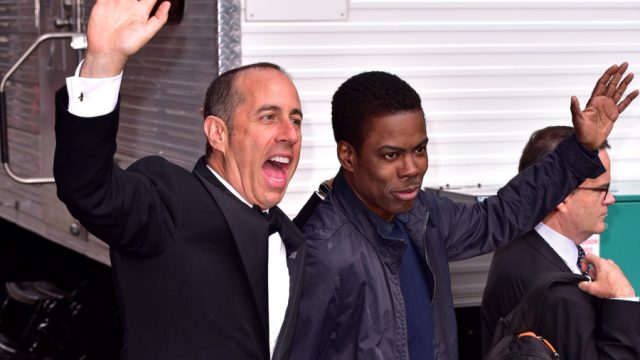 While we continue to be proud of Amy Schumer for absolutely crushing it as an actress and comedian in a male-dominated world, we hope to see even more women reach the same level of success. Case in point: Schumer is the only woman on Forbes' 2017 highest paid comedians list, and that's kind of a bummer.
Don't get us wrong – we are thrilled for Schumer and her continued successes, but the fact that she's the only woman out of ten male comedians on the list is a bit disappointing, especially since the same thing happened last year. And she's the only woman to ever actually make the list.
Forbes shared their top 10 list this week, and Schumer came in at an impressive fifth place, with a reported $37.5 million in income. She earned a reported $20 million more in 2017 than her previous net worth of $17 million in 2016, thanks to various projects in the past year.
Schumer's recent projects include her Netflix stand-up special called Amy Schumer: The Leather Special, her biography, entitled The Girl with the Lower Back Tattoo, as well as endorsement deals with brands ranging from Old Navy to Bud Light beer. She also starred alongside Goldie Hawn on the big screen in Snatched.
https://www.instagram.com/p/BT9dqtWFK4_
The comedians that came in higher on Forbes' list include Jerry Seinfeld, who took top honors, followed by Chris Rock, Louis C.K., and Dave Chappelle. There's no denying that Schumer is in great company, but we are definitely hoping to see more women on Forbes' 2018 list. We are proud of Amy's success and know that 2018 will be even bigger for the funny lady, but we're still holding out hope for more women to join the Forbes ranks, and soon.