This is the only candle that can actually change my mood
Only in my late twenties did I fully start to appreciate the luxurious bliss that candles can offer. Before, I always dismissed them as lazy hostess gifts. Whenever I passed by the Yankee Candle Shop at the mall I quickened my pace, because the competing scents burned my eyes. I didn't get what all the hoopla was about. It's wax in a mason jar, y'all.
But now I'm a full candle convert, and I think I just found the one. The best candle I've ever lit. This is the only candle, to date, that can actually shift my mood the second I light it.
The magical candle in question is…
Catbird's Ghost Rose.
So what makes this candle the best candle? First and foremost, the scent (#duh). "Ghost Rose" has notes of English rose, champagne and peony, and they all mix together to create this soft, but deep, floral aroma that is not overly sweet or cloying. It does have a haunted vibe, but in a good, Victorian era kind of way.
Then there's the name: Ghost Rose. It's just too good. It makes me want to curl up in a leather armchair and read Faulkner's "A Rose For Emily."
But the best part about this candle is its transformative power. Let me set the scene for you: Last night I came home after spending a traumatic two hours at Lowe's Home Improvement. No disrespect to Lowe's, it's a great store and everyone should shop there, but there's something about home improvement megastores that make me come undone. At best, they make me stressed out. At worst? They send me into a blind rage.
So as soon as I came home I poured myself a glass of wine, dumped half a bottle of bubble bath into my tub, and lit that Ghost Rose candle as fast as my little fingers could light a match. The sparking rose scent immediately calmed my nerves, my shoulders relaxed and I exhaled deeply. I started to imagine red and pink rose vines crawling up the side of my ceramic tub. Sure the wine didn't hurt, but scent is a very powerful thing. And this particular scent was strong enough to make me forget I ever step foot in a home improvement store.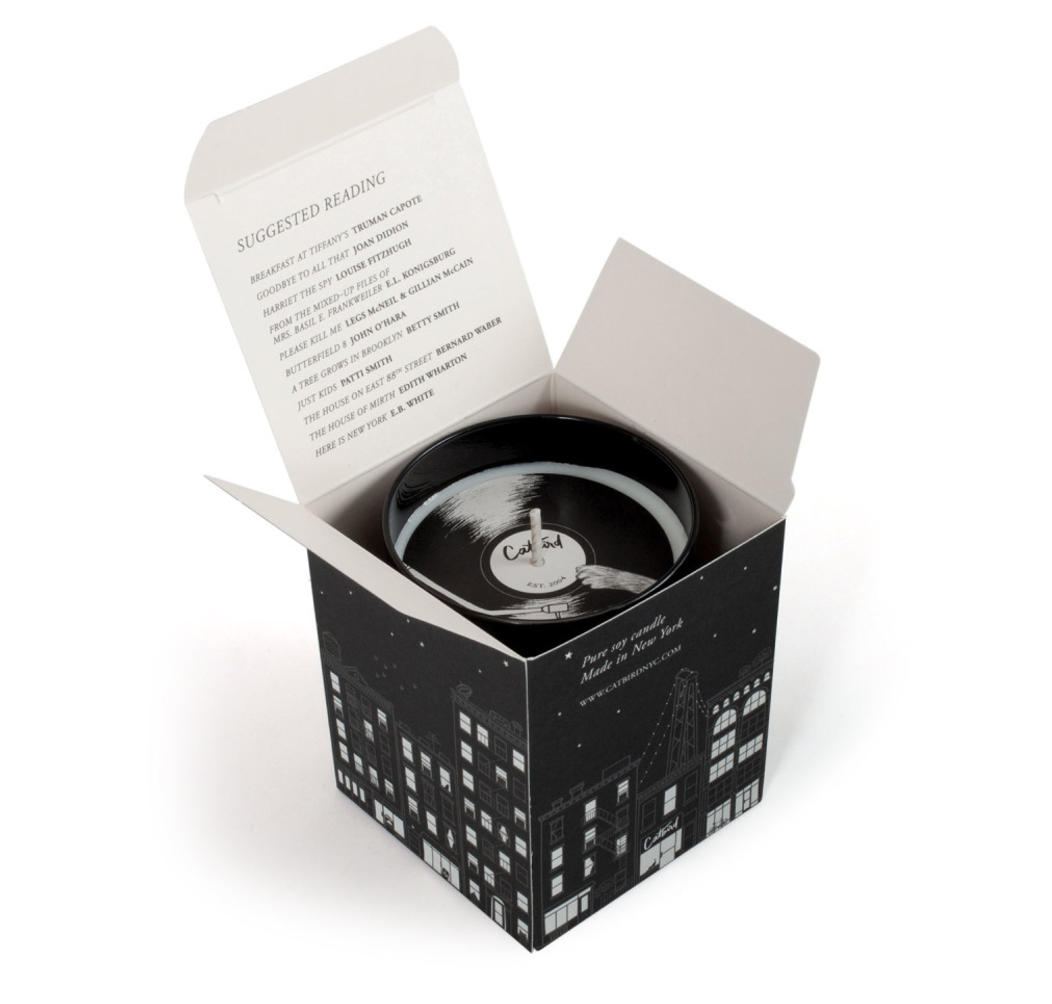 And if you're still not convinced this is the best candle, Catbird's Ghost Rose candle comes with a list of "suggested reading," on the inside of the box — suggestions like The House of Mirth by Edith Wharton and Harriet the Spy by Louise Fitzhugh. I mean, c'mon. What more do you need? I'm not being hyperbolic here. This candle is the best candle.
Catbird's Ghost Rose candle is available on Catbird's website. Buy it here.