This one video highlights all the ways black people could be killed in America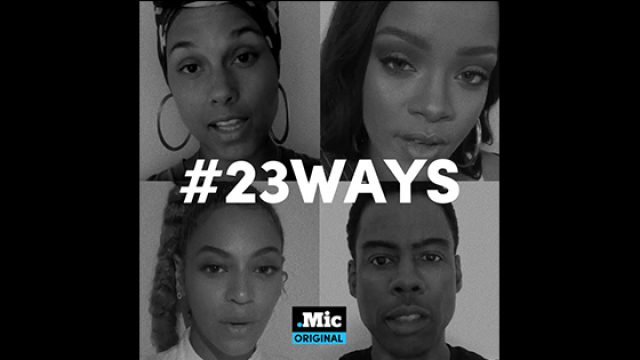 Beyoncé, Rihanna, Alicia Keys, and nearly two dozen celebrities have all taken part in a video describing 23 ways in which a black person could be killed in the U.S.
The clip, created in collaboration with mic.com and the We Are Here movement, details the killings of 23 African Americans, including the recent shootings by police of Alton Sterling and Philando Castile.
Opening the video, Alicia Keys says, "Failing to signal a lane change," before the video displays a picture of Sandra Bland, who was arrested last summer during a routine traffic stop and who later died in police custody.
The clip also features other high-profile killings such as Freddie Gray, Tamir Rice, and the nine black Americans that were shot dead during the tragic events in Charleston, South Carolina, when 21-year-old Dylann Roof entered a church and opened fire on a congregation.
At the end of the video, Alicia Keys, who helped start the We Are Here movement, discusses how people watching can help, urging them to write to President Obama and congress that "[the] time for change is now."
"We demand radical transformation to heal the long history of systemic racism so that all Americans have the equal right to live and to pursue happiness," she says.
Watch the moving video below. https://www.youtube.com/watch?v=
For more information on the We Are Here movement, visit their website.
[H/T: mic.com]