One of our favorite shoe brands just released vintage-inspired jeans and we are swooning
If you're a fan of clogs, then you've most likely heard of one of our favorite clog purveyors, Swedish Hasbeens. The family-owned company hand-makes every single pair of clogs in a beautiful retro style that is reminiscent of the '70s. We aren't kidding when we say that these shoes are completely to die for. While at $200 and up they're a bit pricier, but totally worth saving up our pennies for because we know these surprisingly comfortable shoes are ethically produced using high quality ingredients, and will look fantastic with almost any outfit!
Much to our delight, the brand is breaking out from solely producing clogs and have given us their first line of pants: Hasjeans!
We are loving the corduroy option, they're so delightfully '70s and look super cozy!
And we just couldn't be happier that flared jeans are coming back; they are insanely flattering on every body shape!

Just say no to bell-bottom hate! They're cool, just admit it!
Hasjeans are the perfect addition to the Swedish Hasbeen line; they compliment the shoes beautifully and are true to the brand's style.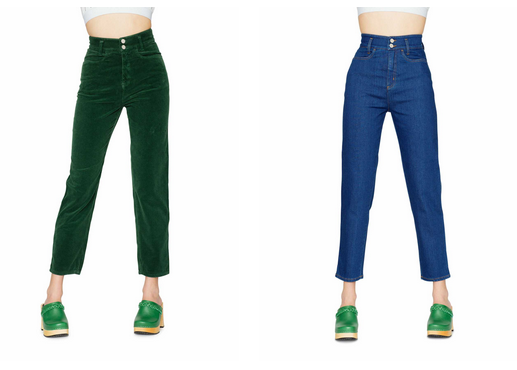 And, hello? A mom jean option? Please and thank you very much!
The colors are brave and bold, with options in neon pink, strong orange, and deep green — they're definitely statement pieces!
All the pants are available online for $169.