This one country has now made equal pay a requirement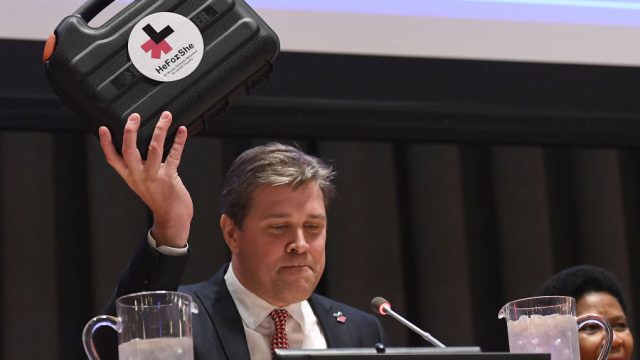 Iceland used International Women's Day 2017 to break some fantastic news — that the nation is creating legislation to eradicate the gender pay gap by 2022. (That's only five years away!) According to the AP, the Icelandic government will introduce legislation to its parliament this month that will require all employers with more than 25 employees to prove that they give equal pay for work of equal value, regardless of gender, ethnicity, sexuality, or nationality.
After baking a cake for the executive director of UN Women, Phumzile Mlambo-Ngcuka, Icelandic Prime Minister Bjarni Benediktsson spoke in New York City for the UN commemoration of International Women's Day.
Also on March 8th, he helped launch HeforShe 2017 Arts Week at the Lincoln Center, where Benediktsson spoke about Iceland's efforts to create equal pay.
Last March, it was reported that the European island nation was already the number one place in the world for working women, but that's not stopping Iceland. They are striving for equality — not just the best in the world right now — and our hearts are swelling.
Because while we understand that Iceland is a small nation, we hope this equal pay legislation will help inspire other countries.
Meanwhile, over in Europe, social affairs and equality minister Thorsteinn Viglundsson said:
"Equal rights are human rights. We need to make sure that men and women enjoy equal opportunity in the workplace. It is our responsibility to take every measure to achieve that."
Viglundsson also said that something radical needs to be done to solve this pay gap issue. And the country is no stranger to radical movements since in October 2016, thousands of Icelandic women walked out of work to raise awareness of this women's rights issue.
As if we didn't already love Iceland enough, now women of every nation have even more of a reason to be in awe of this country.