This DIY golden egg bath bomb actually hatches in your tub!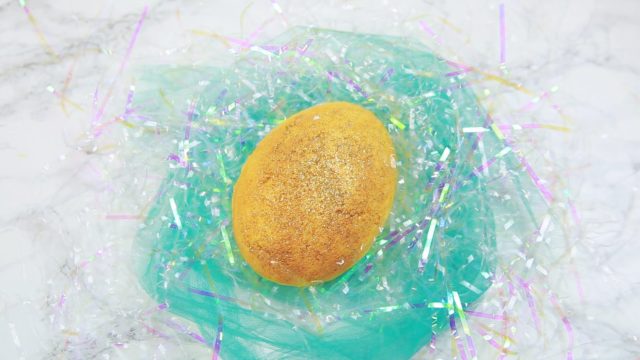 Once you try out this hatching bath bomb, it will leave you feeling eggtra relaxed! Shaped like a golden egg, this bath bomb is perfect to place into your tub for some unwinding relaxation. Once it dissolves into the water, it will have a hidden surprise that will make you spring with joy. We put a toy bunny in ours, but anything that brings you happiness would be eggcellent!
With a touch of therapeutic citrus essential oil, or your favorite scent of chose, you will step out of the bath smelling oh so good. Likewise, the added almond oil for some moisture, will make your skin feel soft and smooth. Have fun with adding a couple of your favorite spring colors into the mixture with soap coloring to transform your soothing bath into a radiant multicolored blend. 
 
Watch the video below, to find out how you can destress and luxuriate yourself next time you hop into a bath with this golden hatching bath bomb!
[tempo-video id="5380667644001″ account="4607804089001″]
Hatching Egg Bath Bomb
Ingredients:
1 cup baking soda
1/2 cup citric acid
1/2 cup epsom salt
1/2 cup cornstarch
2 1/2 tbsp. almond oil
3/4 tbsp. water
1/2 tsp. essential oil (sweet orange, citrus blend, and/or grapefruit)
Egg mold
Soap dye or food coloring (optional)
Gold luster dust (optional)
Instructions:
1. Combine the dry ingredients in a large bowl: baking soda, citric acid, cornstarch, and epsom salt.
2. In a separate bowl, combine the wet ingredients: almond oil, essential oil, and water.
3. Slowly add the wet ingredients to the dry ingredients while stirring with your hands. If too much water is added at once, the baking soda will begin to fizz.
4. If the mixture doesn't reach the desired consistency (sticking together like wet sand), add more water using a spray bottle.
5. Separate the mixture into 3 parts, and add desired soap dye or food coloring. Mix thoroughly.
6. Layer the the colors of bath bomb mix in the egg mold and fill completely.
7. Pack down the mixture.
8. Put each half of the egg bath bomb together and let dry at least 4 hours.
9. Remove from the mold and brush on some gold luster dust.
10. Be sure to rinse the mold thoroughly before making a second bath bomb, otherwise the mixture may stick to the mold.