ALL the Charmings are coming back for the "Once Upon a Time" series finale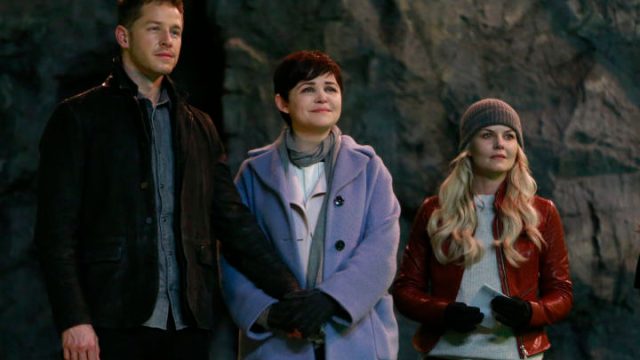 Once Upon a Time is coming to an end very soon — but not without getting its fairytale ending. The entire Charming family is set to reunite during the Once Upon a Time series finale as original cast members Jennifer Morrison (Emma Swan), Josh Dallas (Prince Charming), and Ginnifer Goodwin (Snow White) are set to reprise their roles in the episode. Jared Gilmore, who played (young) Henry Mills for the first six seasons of the fairytale series, is also slated to return.
But the Charmings won't be the only ones getting a happy ending on Once Upon a Time; Emilie de Ravin, who played Belle for six seasons and was seemingly (spoiler!) killed off during her guest appearance earlier in Season 7, is set to return for the finale. We're keeping our fingers crossed that Belle and Rumplestiltskin (Robert Carlyle) get to live happily ever after!
"Seven years after we set off on this magical journey, we prepare to say goodbye to the cast, crew and writers that made the 'happily ever after' that is Once Upon a Time possible, executive producers Adam Horowitz and Edward Kitsis said of the original cast members returning.
"We couldn't think of a more fitting way to say farewell than by reuniting so many of the characters that our fiercely loyal fans spent years with on their adventures. We hope everyone joins our Once family, old and new, for what we hope will be the sendoff of a lifetime befitting this stellar cast and its incomparable fans.
The seventh season, which served as a soft series reset, moved away from Storybrooke for Seattle's fictional neighborhood of Hyperion Heights as adult Henry Mills (Andrew J. West) explored different realms — naturally getting caught up in a new curse. Carlyle, Lana Parilla, and Colin O'Donoghue were the only main cast members from the original OUAT storyline to continue onto Season 7 — with West, Dania Ramirez, Gabrielle Anwar, Alison Fernandez, and Mekia Cox joining the cast.
But it appears the series finale will reunite us with *all* our favorite fairytale characters/Storybrooke residents as Rebecca Mader (Wicked Witch), Sean Maguire (Robin Hood), Lee Arenberg (Grumpy), Beverley Elliott (Granny), Tony Amendola (Geppetto) and many others are set to return for the finale, too. Hopefully they'll all live "happily ever after!"
Once Upon a Time's series finale will air on May 18th.