The first pictures from "Once Upon a Time" Season 7 are here, and an OG character is getting a reboot
Get your best ball gown and glass slippers at the ready. The first stills from the upcoming seventh season of Once Upon a Time have been released — and it looks like we're getting a brand new Cinderella.
Dania Ramirez will be slipping into the iconic blue dress this season (replacing Once's previous Cinderella, Jessy Schram). Annnnnd, she's also Adult Henry's wife and mother to his daughter, Lucy.
Now let's just pause for a second to appreciate how amazing Ramirez — who previously appeared in Devious Maids and Heroes — looks as Cinderella.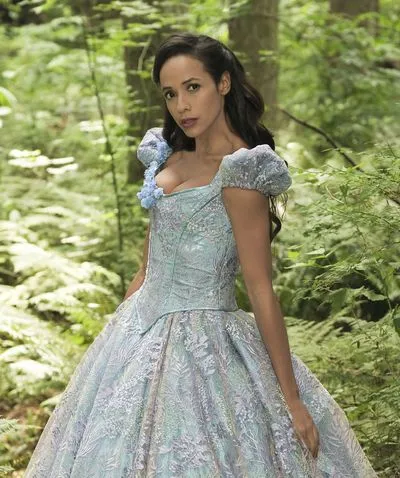 Seriously, we're so excited to see her in the role!
And her character is going to have a very fresh twist, Once Upon a Time executive producer Edward Kitsis revealed during a panel at Disney's D23 Expo.
"Dania Ramirez will be playing a different version of Cinderella," Kitsis said. "If we remember Henry's grandfather is Prince Charming, so we have the grandson of Prince Charming with a new Cinderella."
Her story will take place in modern-day Seattle, with flashbacks to the Enchanted Forest. Kitsis added that we're also going to get to see a lot of familiar faces pop up in both universes.
"Henry is in a new Enchanted Forest, with characters that we have seen before but with different tales," Kitsis explained.
Yessssss! We cannot WAIT to see the crew back together.
"We can't say whether or not [Emma and Hook] have a child, but we can tell you we will answer that question in the beginning of the season.
Needless to say, we'll be impatiently waiting to find out EVERYTHING when Once Upon a Time premieres later this year.