A random person jumped on stage to meet Beyoncé and Jay-Z during the On the Run II tour, and the video is so scary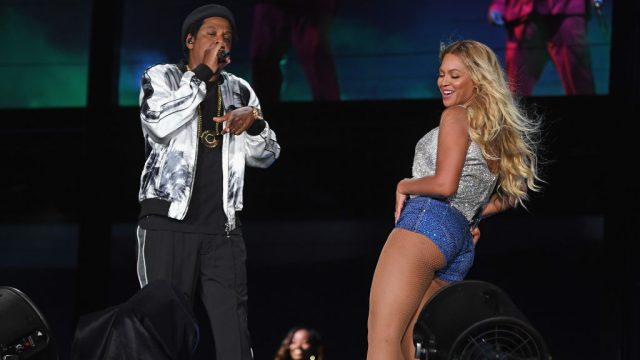 It takes a lot to shake Beyoncé and Jay-Z. But unfortunately, a random fan tested the dynamic duo during their On the Run II tour stop in Atlanta. Complex reports that at the end of their performance on Saturday, August 25th, a random man jumped on stage and started running after them.
Though it took everyone a moment to process what was going on, it wasn't long until the backup dancers went after the rogue fan, who had taken off full sprint. Once they saw him going toward the backstage entry point—where Bey and Jay had just disappeared into seconds earlier—they took action.
The chase ended in what appears to be a physical fight, though it's difficult to tell exactly what happened from the videos. Fans went crazy with worry once they realized what was happening. Fortunately, the man didn't get too close to Beyoncé or Jay-Z. It's scary to see how easily someone could just hop up on stage like that.
Here's the scary moment from another angle.
false
Beyoncé's publicist, Yvette Noel-Schure, took to Instagram to share that the couple is completely safe.
"Thank you to all the fans for your concern," she wrote. "They are fine and looking forward to the show tomorrow."
The incident was scary, but it won't stop Beyoncé and Jay-Z.
Like Noel-Schure said, they're gearing up for their next show in Atlanta. Plus, they just announced a new scholarship program that will help fund a college education for a high school senior.
According to a press release, they "will award one exceptional senior high school student, with financial needs, 100K to put toward their enrollment in a college or university for the academic year 2018-2019."
These two are seriously unflappable. Stay safe out there, Bey and Jay.