OMG: Urban Decay is coming out with new primers that will help with your complexion
Primers can be tricky because oftentimes it feels like a total mystery as to what we're putting on our skin — like what is this stuff actually doing, you know? Urban Decay has already developed our most trusted primer, but we're thrilled to see that they're coming out with a new makeup product that is designed to help your complexion! Now that's what we are talking about! Urban Decay is releasing five brand new primers and we can't wait to test out this item and see our skin concerns vanished. Not only will your makeup look flawless, but you'll be getting the benefits of skincare as well!
The Prep Prime Set comes out in Spring 2017, so we've got a bit of time to prepare ourselves for all the magic that is to come!
Aren't they simply beautiful? The Primers will be called Bright & Tight, Urban Defense, Optical Illusion, Self-Adjusting, and De-Slick. Gives you a bit of a sense of what they'll be doing for your skin!
Our best product out there!
Don't the new complexion primers look similar to their color correcting products?
Our makeup isn't coming off with this bad boy!
They'll just have to tide us over til the Prep Prime Set line hits stores!
We're sure it comes as no surprise that Urban Decay's followers are pretty jazzed about this revelation as well!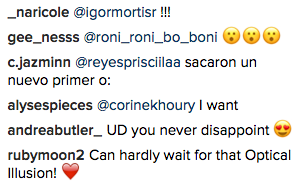 Same, guys.
Are you just as excited about this as we are? What will you be treating yourself to while we bide our time?
One of their famous eyeshadow palettes?
Work on your glow?
Whatever you do, keep your eyes peeled for these beauties next year!
We can't wait to add another item to our skin-saving arsenal, especially knowing what we do about the quality of Urban Decay's products. There's no doubt in our minds that these will be worth every penny and we bet they'll be life-changing!