This artist replaced faces on dollar bills with historical and pop-culture icons, and the results are beautiful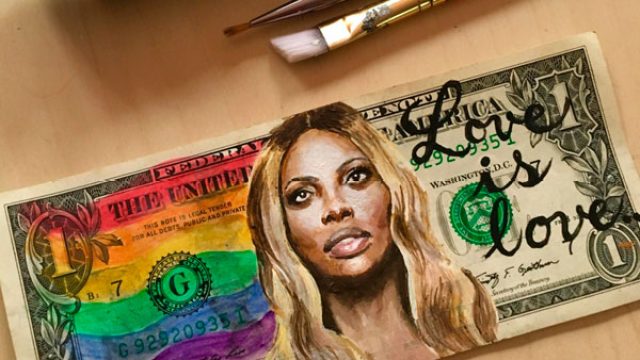 America has voted, and while we're patiently waiting for our $20 dollar bill to get its much needed facelift, this lovely artist uses the inspirations found in her day-to-day to spice up our tired currency.
Like this beautiful Frida Kahlo.
Bushwick native, Danielle De Jesus, is a photographer, painter and Etch A Sketch queen, whose mission is to preserve the life within the Concrete Jungle. She was deeply affected by the vast amounts of gentrification in her city, and decided to create art that would help folks remember all of New York's greatness…
https://www.instagram.com/p/BCF6wnRNRkK
https://www.instagram.com/p/BCs1tZuNRi6
While we're sure the creators of our original currency put a lot of thought and effort into the design, they certainly don't hold a candle paint brush to De Jesus's creativity. Check out more of our favorite picks from De Jesus's collection – ranging from beautiful portraits of civil right's leaders to epic renditions of our favorite television badasses.
Like Rosa Parks.
And these Muhammad Ali and Prince pieces.
And entertainment icons like Breaking Bad.
Beetle Juice.
Ursula from The Little Mermaid.
Leslie Jones as Ghostbusters' Patty.
The Nightmare Before Christmas.
C-3PO from Star Wars.
And this gorgeous Laverne Cox.
Loving it all!