Omg! Sophie Turner and Maisie Williams are going to do "Carpool Karaoke: The Series"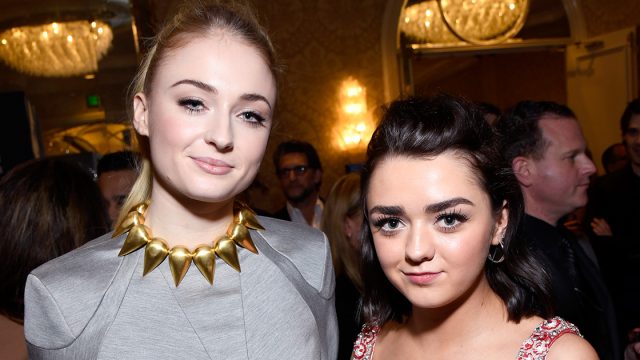 It looks like we're going to get an injection of some serious #FriendshipGoals, as Sophie Turner and Maisie Williams are taking part in Carpool Karaoke: The Series. 
In case you've been living under a rock, Carpool Karaoke sees a bunch of musicians riding around in a car with James Corden while they sing their biggest hits. The segment, taken from The Late Late Show with James Corden, has seen the likes of Adele, Lady Gaga, Madonna, and Britney Spears take part. In fact, it has proven so popular that it was revealed last year that Apple Music had purchased the rights and were turning it into a web series.
https://www.youtube.com/watch?v=_wUyUk5QRyc?feature=oembed
As the trailer shows, the upcoming web-series won't necessarily see Corden joining celebrities, and will actually see a whole host of different stars driving around singing some massive tunes.
And now it's been revealed that Game of Thrones' Sophie Turner and Maisie Williams will be partaking in Carpool Karaoke: The Series
While visiting SXSW festival to promote the upcoming seventh season of Game of Thrones, Turner and Williams shared a video on social media confirming that they'd be getting behind the wheel for Apple Music's upcoming web series.
"STARKpool Karaoke? Lane of [email protected] and @Maisie_Williams from @GameOfThrones are shooting a #CarpoolKaraoke for @applemusic! 🚙🎤🎶," a caption read.
Eek! We're SO excited to see what songs the pair will choose to cover during their Carpool Karaoke. We bet there'll be some epic girl power anthems, and hopefully we'll get a recreation of Maisie Williams and Sophie Turner singing her rendition of the Game of Thrones theme song.
https://www.youtube.com/watch?v=k-ieA4spxt8?feature=oembed
We already know that Turner and Williams are total BFFs, so it makes PERFECT sense that their chemistry would make for one EPIC edition of Carpool Karaoke. We can't wait to see it!