OMG: Sephora released exclusive Huda Beauty lip contour sets and yup, we want them
Lip kit lovers and anyone with an affinity for miniatures is gonna love this…
Sephora just released three exclusive Huda Beauty lip contour sets. Each set comes with a full-size pencil and two mini Liquid Mattes. You can choose between the following color pairings: Trophy Wife/Muse (a soft pink and mauve), Vixen/Famous (a burgundy with rust), or Trendsetter/Bombshell (two slightly different nudes.)
Each set is 24 bucks and makes a great gift, but as Trendmood1 pointed out, it's also a great way to try out the shades.
The formula of Huda's liquid lipsticks is super lightweight, which means they dry pretty quickly. If you plan on mixing the two shades for an ombre or customized shade, you have about 30 seconds to make it happen before the product is dried and set in place.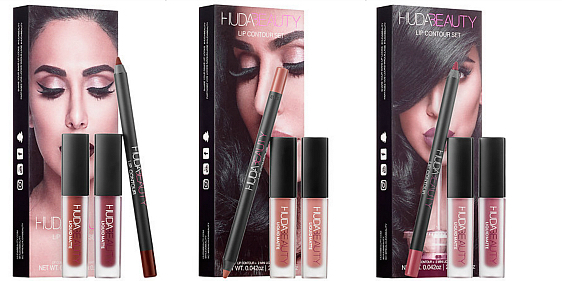 Snaps all around for Huda who has been dominating the world of beauty influencers. After watching the promo video for her collab with Formula X, we're pretty much obsessed with her inspiring outlook and overall chill vibes.
It goes without saying that these lip contour sets WILL sell out so head over to Sephora and treat yo' self.