OMG Koko the Gorilla just learned how to play bass guitar from Red Hot Chili Peppers' Flea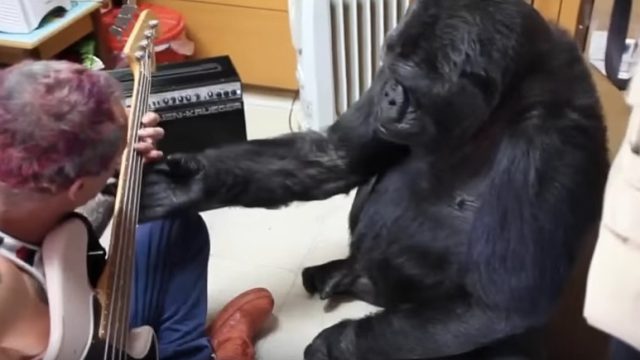 Well, this is probably the best thing ever: Flea strums a few iconic notes when Koko grabs the guitar and gives it a go. "You play the bass so well, KoKo," Flea, bassist for the Red Hot Chili Peppers says, and it looks like he has a new prodigy under his wing. It turns out, Flea's been a fan of KoKo's since the '80s, when he first read the book KoKo's Kitten. Knowing that KoKo is fluent in sign language, can understand nearly 2,000 words of spoken English, and is a rare primate that keeps pets, Flea was enchanted and hoped he'd get to meet her and play for her some day.
https://www.youtube.com/watch?v=JvGxo1k_tWM?feature=oembed
And then, he did. Flea visited Koko at the Gorilla Foundation in California in August. The rock star posted several images from the occasion on his social media accounts. We love how much he loves animals (and bees!).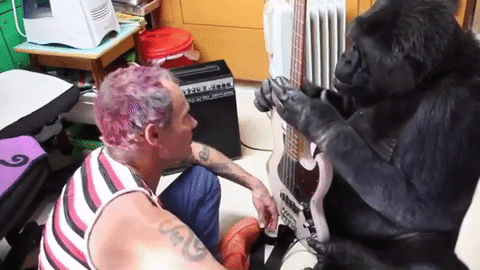 "This is just the greatest thing that could ever happen," he said. "This is the day that I will never forget in my life."
KoKo has lots of celebrity friends, so she clearly wasn't star-stricken, but it seems like the two became good friends. And KoKo loves hard. Example: She made headlines when she mourned after learning her friend Robin Williams had died.
The Gorilla Foundation is known for its groundbreaking communication research with gorillas, and its application to improved gorilla care and conservation. And maybe now, thanks to Flea, we'll get a Gorilla's School of Rock.