OMG, congratulations to these two paramedics, who got engaged at NY Pride!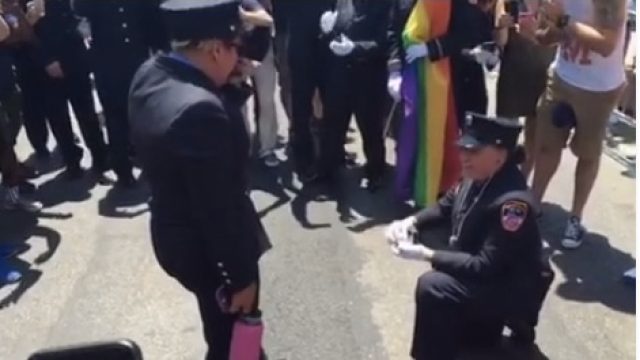 This past weekend at NY Pride, something amazing happened for two FDNY emergency medical technicians. Juliana Arroyo, with the help of some of her closest family and friends, proposed to her partner, Erika Marrero. The whole thing is on video, and you can watch it here:
https://www.facebook.com/plugins/video.php?href=https%3A%2F%2Fwww.facebook.com%2FFDNY%2Fvideos%2F10154200053705729%2F&show_text=0&width=560
They were walking in the parade to honor the victims of Orlando, and Arroyo said, "This parade is monumental for us because of the Orlando shooting. It really hit close to home. We wanted to walk in the parade in honor of the 49 victims. At the same time, I wanted to give Erika something positive to remember from the parade."
The crowd went wild with support, and Erika said yes (in case that wasn't obvious!). It was a beautiful moment for the couple, and one they'll luckily be able to relive over and over because it's all been recorded. The comments on the post are filled with love and support, and we thought we'd share some of our favorites below:
We wish them all the luck in the world, and we're so thankful they found each other.