OMG, Angela from "The Office" has officially gotten hitched!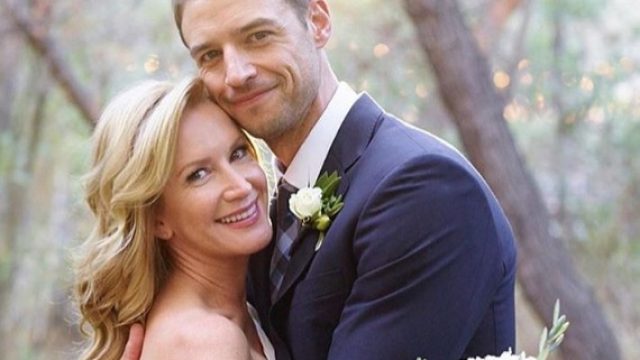 Part of us wishes she married Rainn Wilson, but hey — we can differentiate between real life and fiction. Instead, Angela Kinsey has officially gotten hitched to her dear love Joshua Snyder, and the two make quite the adorable pair. Of course, we know Angela best from The Office. Fans of daytime television might recognize Snyder from the hit series Days of Our Lives. He also starred in the TV series Blackout.
The two didn't wait too long to get married. In fact, Snyder just popped the question to his beautiful bride this August. Kinsey shared the news on her Instagram account, and made sure to let her fans know that she "cried that happy ugly cry." (We know the one.)
Just like we dreamed, best buddy Jenna Fischer made a toast.
And of course, just like we imagined, the bride looked absolutely gorgeous.
That dress is just perfect.
Unlike their characters, it looks like Angela did invite Meredith after all — but unfortunately, she couldn't make it. Actress Kate Flannery made it up to her friend with this sparkly photo.
Kinsey discussed the big day with Martha Stewart Weddings, and mentioned that one of the best parts about the whole thing was being able to combine families with Snyder. Both have children from prior relationships, and the ability to bring everyone together definitely made it all worth it.
"Our wedding was more than just two people coming together, it was a family coming together. Josh and his sons and my daughter and I," Kinsey said. "We were so proud of our children. They each wrote something to say during the ceremony. They wanted us to know how much it means to them that we were becoming a family. It was truly moving. I don't think there was a dry eye in the room!"
Uh, anyone have tissues?
Guests wined and dined the night away. Kinsey and Snyder made sure to serve their favorite cocktail — the Moscow Mule — and let their 130 guests feast on incredible desserts like southern banana pudding shots and s'mores tarts. We totally wish we could have been there.
We wish nothing but the best for these two! Congratulations on such a beautiful day, and many more beautiful days together in the future!