How 8 of Our Fave Olympians are Staying Busy This Summer While Not in Tokyo
From Simone Biles's Vogue cover to Katie Ledecky's TikTok challenge.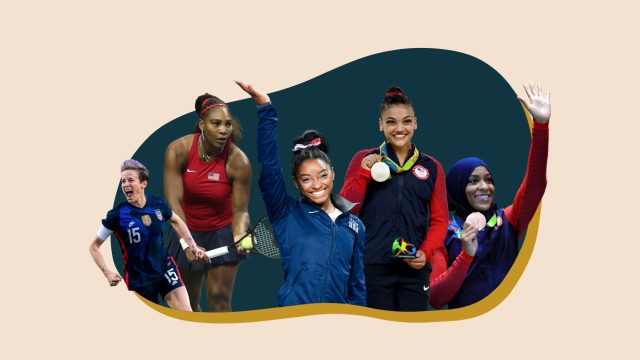 This summer certainly hasn't been what anyone expected—and that's a huge understatement for the athletes who had been training to compete in the 2020 Summer Olympic Games in Tokyo. If the coronavirus pandemic hadn't upturned the entire world, the 2020 Summer Olympics would be wrapping up right about now, as the Games were set to kick off on July 24th and run through August 9th.
But, as we're all overtly aware, the Olympics (and pretty much the entire year) has been called off. As of right now, the International Olympic Committee (IOC) and Tokyo Games organizers plan to reschedule the Summer Olympics to take place "no later than 2021." Our fingers and toes are crossed that ends up happening.
In the meantime, many of our favorite summer Olympians are keeping busy, spending this summer practicing their sports, spreading the good word of social distancing, fighting for equal rights, and more. Here's what 8 of them are up to these days.
1. Simone Biles
Record-breaker Simone Biles was on track to compete in the 2020 Games and then retire from competitive gymnastics altogether. And she still might still stick to that plan—according to a Guardian report from April, Biles wasn't totally sure about going to Tokyo in 2021. However, her coach hinted to The Olympic Channel that she and Biles are training with 2021 on the brain. And during these training sessions, Biles broke yet another record by pulling off a triple double like it was no big deal.
She also casually appeared on the cover of Vogue earlier this summer.
And Biles has also begun dating NFL star Jonathan Owens, so it's safe to say that she is having a pretty good summer season despite the Olympics being canceled.
2. Laurie Hernandez
Gold medalist Laurie Hernandez has spent the past two years getting back into the swing of being an Olympic-level gymnast, but according to a March 2020 report from TeamUSA.org, it was a last-minute decision for her to start training for the 2020 Games. Still, Hernandez said, "I feel like the timeline I'm on is perfect."
Now, the athlete is definitely taking advantage of having so much extra time to hone her craft. The youngest member of the "Fab Five" U.S. women's gymnastics team has been busy in the gym and keeping her followers updated on her wins…and her fails (LOL).
Go, Laurie, go!
3. Ibtihaj Muhammad
Although fencer Ibtihaj Muhammad, the first Muslim-American woman to compete in a hijab, told NBC Sports that she officially "hung up her sabre" after winning Bronze in Rio, she would have cheered on her fellow Olympians at the 2020 Tokyo Games. Instead, she's spending her summer in social distancing mode, and showing off some new pieces from her modest fashion brand, LOUELLA by Ibtihaj.
Muhammad is also reflecting on her 2018 Hajj, the Muslim pilgrimage to Mecca. It was after this experience that the athlete apparently realized she had completed what she had intended to do by becoming an Olympian.
"I feel really content with my career and where I am right now in my life," Muhammad told NBC Sports. "You know, fencing is not a big part of it anymore, but it's always been my intention to transcend sport in a way that reaches people not just in the fencing world but outside of it. I think I've been able to best do that, not only representing my sport but representing myself."
4. Serena Williams
Williams was on track to head to Tokyo, where she was destined to add to her gold medal collection. But now, instead of facing off against her stiff competition, the tennis star is teaming up with her #1 partner (daughter Alexis Olympia) to take down any tennis rival that may cross their path.
The tennis star has also started a new Instagram series called "Serena Saturdays" in which she tackles topics of interest and interviews special guests like husband Alexis Ohanian Sr.
Williams has also launched her own face mask design, added to her jewelry collection, and spent plenty of quality time at home with her family. 
5. Alex Morgan
Though the Summer Games were put on hold for a pretty scary reason, Alex Morgan, co-captain of the U.S. women's national soccer team, seems to be grateful that she's getting to spend the summer at home. She's been hanging out with her baby daughter Charlie, whom she gave birth to in May.
Morgan was still planning on playing in the 2020 Tokyo Olympics after giving birth. She told USA Today in November 2019, "After having a healthy baby, I want to get back with the national team and look forward to playing in Tokyo.''
However, as fate would have it, the world wants Morgan to be a stay-at-home/socially-distant mom for a minute before heading back out to the field—though she seems to be itching to get back to soccer life sooner than later:
On top of mom life and soccer training, Morgan also recently got her own Barbie design, and had fellow Olympian Ibtihaj Muhammad take over her Instagram account for a Q&A about equality back in June.
6. Aly Raisman
In January 2020, before the Tokyo Games were canceled, Olympian Aly Raisman confirmed she would not compete in the upcoming Summer Games. Having competed on the U.S. women's gymnastics team in both 2012 and 2016, Raisman decided it was time to retire and move on to other ventures. And those ventures apparently include becoming a plant mom and sharing her expertise:
Raisman also started a kid-centric podcast called The Magic Sash, about a team of kids "using their voices to better the world." The athlete has said that she hopes the story of The Magic Sash reminds older listeners of the importance of raising their voices. "This year is the 100th anniversary of the ratification of the 19th amendment, and it's as important as ever to have your voice be heard," Raisman captioned her August 5th announcement. "I believe that voting is one of the most important rights anyone can have and I vote because it is an opportunity for change."
Can we snag an invite to Raisman's first garden party? Thanks.
7. Katie Ledecky
Team USA swimmer Katie Ledecky was aiming to match her five Olympic gold medals at the 2020 Tokyo Games. But now that the Summer Olympics have been put on hold, Ledecky is getting whacky with her training process. Her "chocolate milk challenge" is not only hilarious, but super impressive.
When she's not swimming with a glass of chocolate milk on her head (and challenging other swimmers to do the same), Ledecky is still in the pool training hard for the potential 2021 Games.
She also recently paid a virtual visit to the kiddos at Children's National Hospital, and she teamed up with Ralph Lauren to model the fashion brand's "One Year Out Collection," pictured above. 
8. Megan Rapinoe
Olympian and star of the U.S. women's national soccer team, Megan Rapinoe, is still on board to compete in the Summer Games if they occur in 2021—though she believes, according to Sports Illustrated, that the possibility of the event being canceled outright is a big threat. While she waits for confirmation that the Games are a go, Rapinoe is hosting a new HBO series called Seeing America about the challenges we face as a nation and how to overcome them.
Rapinoe also spoke at Hulu's virtual PrideFest, and as she and her partner Sue Bird said in their ad for Symetra, they've been doing all the usual quarantine activities—indoor gardening, baking, working from home, and rearranging their furniture.
So relatable it hurts, TBH.