The story behind the Olsen twins joke in the first episode of 'Fuller House'
So by now, we all know that the Olsen twins will be absent from Fuller House, whose first season premieres Feb. 26 on Netflix. They are busy ruling the fashion world, and we understand. So does the cast, who have only said nice things about Mary-Kate and Ashley's decision to focus on designing for their two clothing lines, The Row and Elizabeth and James.
But just because the cast – who insists MK & A are IRL family members to them – understands the circumstance, it doesn't mean they can't use it as an opportunity for a laugh! We know that Michelle Tanner will have a career similar to the Olsens, but PEOPLE gives us the exclusive on exactly how Fuller House's pilot episode will address her absence. And it's hilarious.
According to a video on PEOPLE.com, middle daughter Stephanie asks dad Danny Tanner, "Where's my little sis?" And Danny replies, "Well, Michelle couldn't be here, because she's busy running her fashion empire in New York." After he delivers this line, the entire cast stares into the camera, deadpan – which was apparently John Stamos' idea, because of course it was.
"We were playing around with jokes, you know, it's not meant to be a diss," Stamos told PEOPLE. It's just kind of like, 'Oh!'"
We can't help but smile, knowing the twins are probably doing the same. The "not-a-diss" part goes without saying, as John Stamos has a history of speaking out about how much he considers Mary-Kate and Ashley family, and how proud he is of their accomplishments.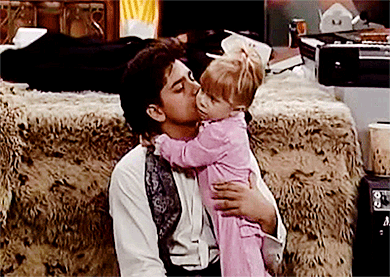 But Stamos is still excited to have most of the old gang back together, noting to PEOPLE, "We always have fun. You know, I wanted to put a couple of dots in [the first episode], an homage, kind of." Of the Netflix environment, he added, "You know, the beauty of that show is that there was so much of it and it was so much fun and on Netflix we could turn it in, it was 33 minutes or something. We didn't have to keep it at 22. It was sweet. I think people will like it."
Like everyone else who has even an inkling of nostalgic feelings toward Full House, we are keeping our fingers crossed for a Michelle appearance in season 2 of Fuller House – which showrunners haven't ruled out yet, as they've said the door is always open for Mary-Kate and Ashley to return. Until then, we'll continue counting down the days until Feb. 26 (40…)!
(Images via ABC, ABC / Tumblr)